FitBits: Mutts, Butts and Wii Fit Fights Big Guts
Fido hits the gym, you keep your booty, and Nintendo gets physical.

The Buff Pet
We FBGs love our dogs. Like maybe an abnormal amount. And it's always exciting when two loves marry. Fetch! Pet Care, a professional pet care service, has mated with fitness to spawn "Go Fetch!"—a fitness program for pets.
With high numbers of obesity for dogs and cats (one of four!?), our furry loved ones run the same risks as weight-challenged humans, like diabetes, heart disease and joint and hip problems. Go Fetch! aims to combat the pet pudge by showing up at their critter clients' homes armed with balls, Frisbees, play toys and string to give furry friends a fun-filled workout. Don't contribute to your companion's expanding waistline—and don't forget to take your best friend for an extra-long romp in the park today!
Love that Rump
With most women obsessed with trying to firm, tighten and tone their rears, sometimes we need to be reminded to embrace our luscious lady lumps. A new study found that fat stored around the hips and gluteus maximus may offer protection against diabetes. The researcher says the results not only say that "not all fat is bad" (hooray!) but also it points to potential future drugs that may copy the benefits of subcutaneous fat. Now that's research we can get behind!
Whittle the Waist
With the U.S. launch yesterday of the Wii Fit, Nintendo fanatics wanting to incorporate a Wii bit of gaming technology into their workouts can have at it. With more than 40 yoga, aerobics, strength training and balance activities, Wii Fit provides consumers with an interactive method of incorporating exercise into their daily routines. The fitness game sells for $89.99, which includes the game and the Wii Balance Board accessory.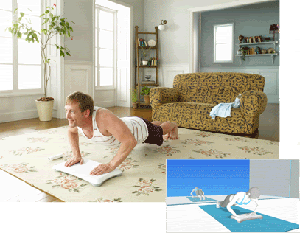 If the U.S. embraces Wii Fit like Japan has, the game could get millions off the couch. The Wii Fit sold more than 1.4 million copies in Japan from the time it launched in December 2007 through mid-February.
The FBGs haven't run out to buy a Wii Fit yet, but we'd love to know what you think! Send us a line at contact@fitbottomedgirls.com.
—Erin
Photos grabbed from http://www.fetchpetcare.com/; e3nin.nintendo.com/wii_fit.html.