Posh: Buying New Workout Kicks
Call me an "un"-role model for podiatric health. I rarely buy new tennis shoes. And I don't only wear my tennis shoes to work out. I wear them when walking the dog, going to the grocery store, running errands, going dancing, to job interviews…you get the idea. Needless to say, I get my money's worth. And recently, I noticed my feet were starting to feel the burn. I could feel the wind blowing through my toes. And the little Saucony tag actually fell off altogether. I did the math: It had been at least a full year since I bought new tennis shoes. I was well overdue.
Don't let the stellar lighting fool you—these puppies are much gnarlier than they appear: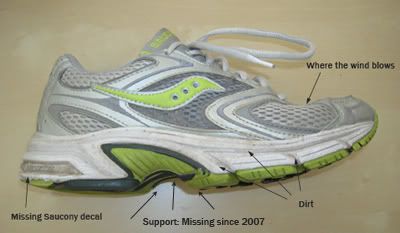 I'm not one of those people who needs the latest and greatest when it comes to shoes (obviously). I like my shoes anywhere from $40 to $50. And I typically go to Kohl's to get them because a) there's always a sale and b) there's a good selection. I went shopping over the weekend with one thought: I'm not leaving without new shoes. And then I started looking for my size. I'm a 7. Each shoe I came across had every size EXCEPT for 7. So I snagged the sales lady, who started plugging shoe numbers into her little electronic keypad. "Nope, no 7 in that….or that….or that….Gosh, you have a tough size." Hmm. Is 7 all that rare? It's not like I was asking for a 15 extra wide or a 4 double narrow. I began to grow impatient. I had already been looking for about 30 minutes with no luck. Do I go somewhere else and spend more money? Do I walk out, not meeting my main goal? The sales lady then points out a pair of purple Asics. I've never worn Asics. And I'm not a purple kind of girl. But hey, there was a size 7, so I sat down to try them on.
And it was a match made in heaven. Like Thelma and Louise, without the tragic ending. Like Bonnie and Clyde, without the robberies. They felt awesome on my feet. Gave a little pep to my step. So what if they were $60? I figure I'll be wearing them for a year. For you mathletes, that breaks down to only 16 cents a day.
Here, in all of their clean, white (and purple) splendor: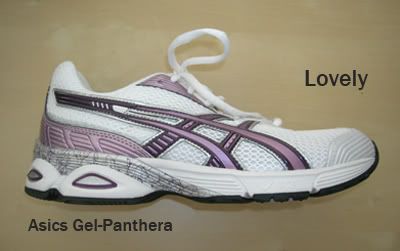 If you're working out in shoes that have reached retirement age, check out our tips on buying new ones. And get shopping!
Tips for Buying Running Shoes
Be in the know when it comes to replacing athletic shoes
Replace your running shoes every six to eight months or 500-600 miles.
Running shoes may run small. New Balance suggests going up a half or even a full size.
Buy running shoes in the afternoon or evening, as feet tend to swell throughout the day and will be similar to the size of your feet post-workout.
Select specialty stores will have you run on a treadmill to find the right shoe for you, so dress appropriately.
Shoes should be comfortable immediately. A breaking in period isn't necessary.
If your toenails turn black, you're wearing the wrong size.
Tips compiled from New Balance New York and the University of Michigan Health System.
—Erin