FitLit: The Biggest Loser Fitness Program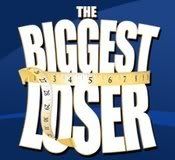 I'm a huge sucker for the TV show, The Biggest Loser.I know there are arguments against the show—it sets unrealistic weight-loss goals for the average person, it makes a spectacle of overweight Americans, yada yada—but there's little doubt that most of the contestants do completely change their lives for the better. And I'm a sucker for that every time.
I'm also a sucker for
Biggest Loser
swag, including books. (Erin is a sucker, too, and will be reviewing the show's exercise DVD soon, so be on the lookout for that.) Last year, the BL enterprise released
The Biggest Loser Fitness Program
, and I finally allowed myself to partake in one of my favorite guilty pleasures: diet and fitness literature (other favorite indulgences include watching
Sleepless in Seattle
on TBS while eating Chunky Monkey ice cream and reading
Us Weekly
).The book is very accessible to the everyday fit bottomed girl. In eight chapters, it gives any person, at any fitness level (except elite athletes, they're on a whole other level of crazy, awesome-crazy, but still crazy), a guide to building his or her own regular workout program. The pages are chock-full of interesting quotes and advice from the trainers and former contestants regarding hot topics including the truth about cellulite, functional fitness, proper hydration and fueling up post-workout.
The "meat" of the book focuses on fitness with detailed descriptions of proper form and photos of exercises along with recommendations for making the moves more challenging. Later in the book, those exercises are combined to build circuit-training routines for beginners, intermediate and advanced exercisers (each get three routines, equaling a total of nine routines in the book.)
Overall, the book is well done, but there are definitely high and low points:
Biggest Winners: It's easy and fun to read, and, if you're a fan of the show, it gives interesting tidbits about former contestants. It also includes recipes, nutritional information, logs to record your workouts, and its exercise plan is varied enough to prevent plateauing.
Biggest Losers: Although the circuit-training is intense enough that it gets your heart rate up, the book has very little information on cardio. In fact, activities such as walking, running and dancing hardly get a mention. Also, for women working out three times a week, the book recommends 1,050 calories to 1,400 calories a day for weight-loss. I believe I would die on anything less than 1,200 calories. And as my family will tell you, I get cranky if I don't get my calories.
Another major con is that the book mostly features trainers Jillian Michaels and Kim Lyons. They're good and all, but I want more of this:

Rodale publishers, take note: More Bob Harper. And more calories. Pretty please? —Jenn