FitLit: The Food You Crave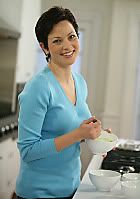 Despite Ellie Krieger's down-to-earth personality and sensibility when it comes to having a healthy diet, I've always found her Food Network TV show, "Healthy Appetite," to be a little— pardon the foodie irony here—bland. For this edition of FitLit, the Fit Bottomed Girls decided to review her cookbook, The Food You Crave, to see if it delivers more spice than the TV show.
To get a feel for the book, I made a recipe from each section of the book. I've been cooking for a number of years now and, unlike some people (cough, Erin), I really enjoy it, so although making eight recipes in about two weeks time seemed daunting, I was up to the challenge. (On occasion, I even pretended I was competing on Iron Chef and frantically sped about the kitchen pureeing and chopping feverishly. Although it's loads of fun, turns out rushing isn't the best way to cook. I almost ruined two recipes by forgetting crucial steps like, oh, turning off a burner. Oops.) Below are my notes from the recipes I tried.
Breakfast: The Southwestern Hash and Eggs (p.30) was easy to make and pretty tasty. It's not overly interesting or different, just your basic potatoes, egg, black beans and red pepper hash. However, of all the recipes I tried, this was probably the best pick for cooking for the hungry man (or men, growl) in your life.
FBG Tip: To make this recipe less time consuming, you can sub a can of diced tomatoes for the fresh tomatoes.
Nibbles & Noshes: The Herbed Goat Cheese Dip (p.66) took me five minutes to make. It's tasty, has few ingredients and pairs wonderfully with fresh veggies or baked pita chips.
FBG Tip: Many grocery stores don't have a great selection of fresh herbs, so if you can't find fresh parsley, mint and/or thyme, substitute 1/4 tsp. dried.
Soups & Sandwiches: The Sweet and Spicy Grilled Cheese Sandwiches (p. 95) took the grilled cheese sandwich to new heights. Cheesy, decadent and filling with just350 calories, if you love caramelized onions, this is your sandwich.
FBG Tip: If you have a George Foreman Grill, forgo grilling the sandwiches in a pan and use the Foreman. It cuts the cooking time in half!
Main & Side Salads: The Savory Chinese Chicken Salad (p. 110) is perfect for summer. It's light and refreshing, yet filling. If you're a fan of Pei Wei, it's very similar to their Asian Chopped Chicken Salad.
FBG Tip: If you're vegetarian, grilled tofu works great in place of the chicken.

Pasta, Pizza & Grains: The Arugula, Caramelized Onion and Goat Cheese Pizza (p. 173) was the most "foodie" of any of the recipes I tried. Definitely "Top Chef"-esque. It's tasty but probably not for everyone.
FBG Tip: Try subbing the arugula with spinach and the goat cheese with feta. It's a variation worth trying.
The Main Course: The Balsamic Chicken with Baby Spinach and Couscous (p.205) was a hit. It had bold flavors, vibrant colors and a beautiful presentation. The recipe dirties a lot of bowls and pans, but I'd consider the extended cleaning time a small price to pay for this ta-da dish.
FBG Tip: Keep a box of frozen spinach on hand for this recipe. In a pinch, half of a box (thawed and squeezed dry) can be substituted for the fresh spinach, saving you time and money.
Sides: I made the Broccoli with Toasted Garlic (p. 249) along with the Balsamic Chicken with Baby Spinach and Couscous. It paired quite nicely. My only advice is to steam the broccoli in the microwave (loved the ease of that, by the way) for the recommended time. My broccoli seemed more crisp than tender after the recipe's four minutes, so I microwaved them for a minute more, and they were way over done.
FBG Tip: If you love garlic, feel free to use more (even much, much more) than the recommended three cloves.
Desserts: I was the most excited about trying the Dark Chocolate Mousse (p. 301). As far as a mousse goes, it was fairly easy to make, and it had an unusual ingredient—tofu. The tofu blends to a smooth consistency, lending protein and a low-fat base to the mousse, and you can't even taste it. Promise.
FBG Tip: This recipe is awesome and very awe-inspiring. Don't change a thing.
Overall, I was really pleased with this book. She has great tips on grocery store shopping, there are quite a few pictures of the food, nutritional information is listed on all of the recipes, and there are great little tidbits of information sprinkled throughout the pages. There's also good variety to the recipes, ranging from high-end culinary fare to good ole fashioned home cookin'. Although some of the recipes I tried seemed daunting, with fairly long ingredient lists that were sometimes pretty costly, nothing I made was hard, and nothing took more than 45 minutes. In fact, most took 30 minutes or less (take note, Rachael Ray).
However, my favorite part of the book was its attitude. Krieger says that basically all food is good in moderation, and she doesn't ban the really good stuff (butter, oil and cheese—oh my!). With that healthy attitude, I have a feeling Krieger is a closet FBG. If you're looking to expand your healthy culinary horizons, you might give this book a good look or try one of her free recipes online. You just might find something new to crave. Gosh knows I did. Dark Chocolate Mousse, anyone? —Jenn