I'm honestly so tired of hearing the name of the color that stands for environmental friendliness that I'm not even going to use it in this post, save for the title. I may be sick of the G-word, but that doesn't mean that I'm not practicing G-ness in my everyday life. I recycle (even down to my Netflix envelopes), buy swirly lightbulbs, and I
would
compost like Jenn if I had a house, I swear.
I try to have an awareness of my everyday impact on the planet. I also try to fit kiwi-colored workouts into my life whenever feasible. They typically happen when I'm busy, want to work out and have another errand or two to run as well. Plus, with gas prices being so high, literally
running
errands is becoming more appealing.
An hour-long walk recently allowed me to swing by the post office and drop off a library book while getting in some cardio.
Just the other day, I ran to the bank to make a deposit. I felt so good—completing an errand, working out and saving the planet by not using my car. Plus, it only took about 10 minutes longer than driving. I did have to be super careful not to lose
the
debit card and signed check, seeing as how I don't exactly own a fanny pack. And lucky for me, I only had to do an ATM deposit, as I'm not sure how much a bank teller would appreciate my sweaty self at the counter. In addition to saving some cash, walking to and from everyday errands is a great way to fit more activity into your life. Not everyone's neighborhood is pedestrian friendly, but to rate yours, check out
Walk Score
. You can see how your neck of the woods scores on walker-friendliness—or if you're planning to move, how potential neighborhoods fare.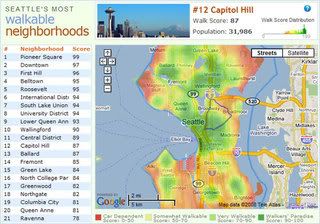 My neighborhood happens to be a 68 out of 100, meaning that it's in the upper range of "Some Walkable Locations." My pharmacy is walkable, and I have a grocery store just down the street. And if I'm willing to walk a little over a mile and a quarter, I have tons of restaurants and shops within my reach. My gym, unfortunately, is almost 3 miles away. Hoofing it there would be the workout itself, and a 6-mile round trip is a lot for this Fit Bottomed Girl.
—Erin