FitLit: Magazine Face-off
I love magazines. It's no surprise that I work for a magazine (I promise you haven't heard of it), nor that I subscribe to so many that I have no chance of keeping up with them. With all of the magazines available, the Fit Bottomed Girls decided to buy three July issues of popular fitness mags—Fitness, Self and Shape. Here's the FBG take on them.
Fitness
104 pages of fitness-y fun (Note, the below cover is June)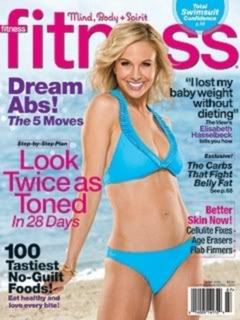 Cover promise 1: Banish cellulite in 15 minutes a day
This 15-minute lower body workout shows you three different moves for beginner, intermediate and advanced exercisers. I'm not really sure how exactly the three moves take 15 minutes, leading me to wonder if you're supposed to do all the moves on the page, starting with the easiest? Maybe you're supposed to do three sets? It didn't say, leading to my confusion.
Cover promise 2: Get fit for $30
This article showed how much money five women spent to get in shape. One woman lost 33 pounds after spending $30 on two videos; another spend $4,600 on personal trainers and gym to lose 10 pounds—proving that you don't need to spend a lot to lose a lot.
Cover promise 3: The fastest way to sculpt
I've heard great things about kettlebells, but have yet to try them. This 37-minute kettlebell workout gives you a circuit of six moves to complete four or five times. The bonus is that it can be done using 10- to 15-pound dumbbells, so this is one I'll be tearing out and trying later.
In sum: While Fitness gives some beauty coverage, the main focus here is fitness, nutrition and health. With several quick tear-out workouts, you can easily take new moves with you to the gym. The salad recipes on page 97 look yummy, too.
Self
162 pages selfish reading
Cover promise 1: Fight cellulite!
Also helping women battle the cellulite, this article is a more realistic take on the dimples on your rear. Because cellulite is caused by the connective tissue, not fat, this article discusses creams, massage and dermatologist recommendations for beating the bumps on your bum.
Cover promise 2: The hidden risk of your healthiest habit
A good article about injuries that can occur when you do yoga. This article reminds you to listen to your body and not to push it beyond what it's capable of—and that goes for all fitness activities.
Cover promise 3: Rev up your metabolism
This workout gives "multitasking moves" to help you build strength. Some extreme close-ups in the page layout made it a bit hard to get a feel for the moves, but the model was really buff, instead of stick skinny, which was a bonus.
In sum: Self feels like more of an overall lifestyle mag than Fitness, but it still packs plenty of fitness punch. With pull-out workouts, it can also help you spice up your routine. Also included were tips on eating right while traveling, tips I can use for an upcoming trip. And with Anne Hathaway on the cover, you get your celebrity fix from an accessible actress.
Shape
216 pages to help you get in shape (Note, the below cover is February)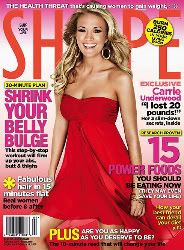 Cover promise 1: 3 minutes to flat abs
An anchored reverse lift ab move that promises to whittle your rectus abdominus and obliques. Big cover promise, short article. It must be one effective move.
Cover promise 2: Julianne Hough's Dancing with the Stars workout
This DWTS profile on JH shows eight exercises she incorporates in her life in addition to her dance moves. These tear-out moves promise to tone and strengthen in just 15 minutes.
Cover promise 3: Easy, guilt-free pasta dishes
These pasta dishes look colorful, delicious, and hey—they're pasta! I'll be trying the shells with sundried tomatoes and arugula, but I might balk at the two dishes calling for uncooked buckwheat noodles and rainbow fusilli. I'll leave those for master chef Jenn—nothing intimidates her in the kitchen.
In sum: A review of all the best snacks gives good recommendations on healthy snacks. Another article shows how to use a Smith machine to tone your hips—a useful article as such gym machines freak me out. The mag also includes three before and after weight-loss stories—the FBGs are suckers for success stories.
Verdict: With overlapping topics—heart health, doctor visits, healthy eats—all magazines are great for new workout tips, healthy recipes and general health info. For more beauty, go with Self; for some added fashion, Shape's your mag; for quick fitness, well, Fitness is it. —Erin
Photos grabbed from http://www.photobucket.com/.