Nosh: Applebee's Weight Watchers Menu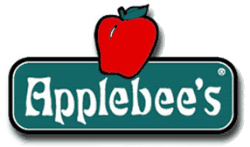 I tend to be a creature of habit. So each time I hit my friendly neighborhood Applebee's, I get one of two items: the Oriental Chicken Salad or some of the tastiest chicken fingers known to man. But on my recent trip to the restaurant, I stepped outside my boundaries and decided to give the Weight Watchers menu a try.
The menu is light in more ways than one. Although I felt like there weren't a lot of options to choose from, I think most people would be able to find something they like, unless you're a vegetarian.Thinking I would get a salad, I was disappointed to see that the one salad, the Grilled Chili-Lime Chicken Salad, which sounds super tasty, weighs in at only 250 calories. That might be okay if I'd O.D-ed on a Big Mac earlier in the day, but I was there for dinner and 250 wasn't going to cut it.
At 310 calories, I opted for the Cajun Lime Tilapia, which is a grilled Cajun-seasoned tilapia fillet flavored with lime juice, and topped with a black bean and corn salsa. It comes with rice pilaf and a side of steamed vegetables.
The tilapia itself was tasty, as was the salsa topping. But the rice was nothing to write home about, and the broccoli was overcooked and overseasoned. Overall, with an additional side salad and a sneaky bite of chicken fingers, it was a filling and satisfying meal.
In the name of research, I demanded dessert: the Weight Watchers Chocolate Raspberry Layer Cake. And here's where Applebee's really gets it right. At first sight, I believe I said, "That's the tiniest piece of cake I've ever seen." But it's sweet, fruity, chocolatey and delicious. And while it's small, it's really the perfect amount to satisfy your sweet tooth. And at 230 calories—divided by two!—it's a sweet treat that won't put your cals over the edge.

My total Weight Watchers meal (not including salad and bite of chicken):
Cajun Lime Tilapia: 310 calories/6 grams of fat/9 grams of fiber (6 points)
Chocolate Raspberry Layer Cake: 230 calories/3 grams of fat/3 grams of fiber (4 points)
If you do decide to go for the light options at restaurants, take the nutrition facts with a grain of salt. A recent investigation revealed that some meals at these restaurants, including Applebee's, contained way more calories and fat than indicated on the menu. At issue with Applebee's is that a few items (including my tilapia) tested as having twice the fat—which to me isn't as worrisome as having double the calories. The Fit Bottomed Girls tend to listen to our guts, not calorie counts, to tell us when we're full, but it's nice to know that there are healthier options available. —Erin
Photo grabbed from www.photobucket.com.