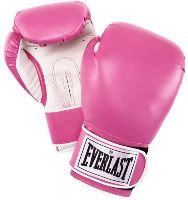 Back when the Fit Bottomed Girls' site was just a young little bugger, we told you about a new 24 Hour Fitness class called Everlast Shadow Box. Well, now that we're a seasoned two-month-old toddler (FBG years are akin to dog years, for the record), we've had time to get up from behind our computers and into the outside workout world that doesn't involve a DVD or neighborhood sidewalk. Yes, I put on my finest workout duds and hit up 24 Hour.
With the weather being so nice lately, I hadn't been to the gym since early June, back when Erin beat my arse in the
president's fitness test
. So, I was actually kind of nervous to go back in for a class. Would the people call me out as the gym-rat fraud that I was? Would they revoke my fitness certifications? Would they point and laugh at my lack of practiced coordination? Turns out, no. I made a friend and I got a good workout in, even if it was a bit disjointed.
All instructors bring their own flair to their classes, so really I can only comment on my class and my experience. That being said, I feel like I did get a pretty good representation of the class' format. The 45-minute sweat-a-thon channels your inner Muhammad Ali through 12 rounds of punching combos and high-intensity cardio moves. The punching combos were more boxing than aerobics, so if you're used to the moves in Tae Bo or Turbo Jamlike I was, you might stumble a bit. I took a spot in the second row, and I know I screwed some people up by jabbing right when I was supposed to cross left and moving up when I was supposed to be shuffling back. What can you do?
Oddly enough, the warm-up of the class was so intense it could have been named a hot-up. The fitness freak instructor went straight into high-intensity moves and push-ups. This was followed by punching combos (three minutes on each side of the body, so it got a little repetitive) and then cardio moves. At first, the three-minute cardio drills were only mildly challenging: jacks, high-knees and jumping rope and your own pace. Halfway through the class, I thought to myself, 'Wow. This isn't that tough at all.'
It's like the fitness freak heard my inner dialogue and decided to punish me. Next thing I know I'm doing jumping lunges followed by mountain climbers, repeat, repeat, repeat. My GAWD.
Red-faced and dripping with sweat, we go into more punching combos. I recover here, but then it's partner work. Great. By this point I'm really wishing I'd stayed at home with my beloved exercise DVD collection. Thankfully, a fellow shadow boxer asks me—enthusiastically—to be her partner. Ah-ha! The outfit worked! Pretty soon, I'm shuffling around her while she does high knees. After five times around each way, the freak instructs us to jump 10 times together. Miss Enthusiastic and I add double high-fives
to
the jumps. I love high-fives. So does she. We are MFEO, made for each other.
By the end of class, I'm red-faced and sweaty, but happy. Sure, the cuing may have been "eh," but the music was good (Rihanna, Avril, JT), and it was a good interval workout. There are easy ways to cater the workout to your ability level, but because I was in a group atmosphere (dudes were in the class, too), I definitely pushed myself beyond my usual fit-bottomed limits.
I think fate may have played a part in regards to partner work, so I definitely recommend bringing an energetic friend. (And don't worry, Erin, no one could ever replace you as my BFF workout buddy!) —Jenn