Yoga Booty Ballet: Light & Easy / Latin Flavor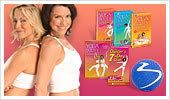 I've wanted to try Yoga Booty Ballet ever since I first heard the name on television. It just sort of rolls off the tongue: Yoga Booty Ballet.
I can't believe it took me this long to give it a shot, but I finally put it on my Netflix queue. The two-disc set took up two of my movie slots—and for no good reason. I'm fairly certain they're counting the Power 90 infomercials at the end as part of the total run time, meaning the actual workouts aren't quite 45 minutes each—and therefore shouldn't have to take up two discs.
Broken up as "Latin Flavor" and "Light & Easy," each disc survives as its own complete workout segment, and both have a similar format.
Latin Flavor
After introducing the drummer, (yes, there is a live percussionist), Latin Flavor started with a new-age style meditative session, where you visualize that the intention for your workout is sitting in your cupped hands, or "lotus flower." Maybe it's that I like to get my workouts to get a move on or maybe it's that I can't meditatively visualize my intentions while my dog is licking my knee, but it was a little new-agey for my taste. It wasn't bad per se, but it was different.
Once the stretching started, I was really "in like" with YBB. As proven by my results in the fitness challenge, I need more stretching in my life, and this was a great warm-up stretch session. The Latin flava kicked in with the dance-cardio portion and was really fun. It wasn't your standard aerobics, but had more of a dance feel, complete with traditional Latin moves like the samba, merengue, Miss Chi Chi and Mr. Eddy (I think they invented the latter two). Like the names, the moves aren't always intuitive, and I found myself getting turned around. But the point of YBB is to really move, wiggle, and have fun. After the cardio dance, you move onto the floor for ab and leg toning. More affirmation and meditation follows, and your enlightened self is finished.
Light & Easy
You start out here by strengthening your magnetic field—draw in the positivity; deflect the negativity. Maybe if I drew in the positivity a little better I wouldn't make fun of this portion? I'll try harder next time. In a surprisingly difficult twist, as you're sitting and getting all centered and affirmed and mantra-fied, you start flapping your arms like a bird for what feels like an eternity. I'm more impressed with birds now, as that definitely burned.
After more feel-good stretching, you start the dance segment, which is more traditional and easier to follow than the Latin counterpart. Shimmies and grapevines get your heart rate up, and the ballet portion is represented with thigh-toning plies and squats. A squishy ball was called upon for some of the floor exercises, but alas, I have no squishy balls laying around (I'm way too mature to make a joke here). I did the moves without the ball, but the use of resistance would have surely made them more effective. A cool down follows, with yoga poses including downward dog and my favorite, child's pose, and the DVD ends in meditation.
FBG Rating (Out of 5):
Instruction: ★★★
Long-Term Likeability: ★★★
Music: ★★★
Fun Factor: ★★★★
Meets Expectations: ★★★★
Overall: ★★★★
Fit Bottom line: Not the greatest challenge ofyour workout career, but it's definitely fun and totally different from the many workout DVDs I've tried. I would gladly repeat, even if I laugh at myself trying to embrace the new-age mindset. —Erin
Want more reviews? Read the Fit Bottomed Girls' new release reviews and retro reviews. For more on how our ratings are determined (it's not a science, but we do have some method to our madness), read our review criteria.
Photo grabbed from http://www.photobucket.com