Fast-Food Kids, Olympic Vids and a Weight-Loss Bid
Kiddie meals miss the mark, the Olympics continue on our laptops and acupuncture helps drop the lbs.
Unhappy Meals
While many restaurant chains are finally offering better-for-you fare than the traditional burger and fries (fresh salads and skim lattes—hooray!), it turns out that kids may not have as many healthy options. Boo. A recent report rated the most popular chain restaurants, and most didn't do so hot. Chik-fil-A (a Fit Bottomed Girls' fave!) scored an "A" on the ranking for itsfresh fruit and low-cal sandwich offerings. McDonald's landed a solid "B" for its apple dippers and 2 percent milk. IHOP, Olive Garden, Red Lobster and T.G.I. Friday's all scored the big "F." So did Applebee's, which should take a cue from its Weight Watchers' menu for adults. Healthy food shouldn't discriminate by age.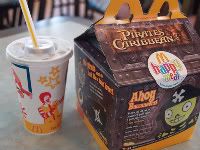 I don't have kids, but I can only imagine how hard it is to feed them something nutritious and tasty while on vacation or out and about. Thankfully, parents now have this helpful guide.
The Coverage Continues
So, the Olympics ended this past weekend and although my television is probably happy to not be on 24/7, I'm a little bummed. To go all Valley Girl, they're just, like, so awesome. And I'll miss the daily reminder to dream and dream big (yes, this goes a bit against our earlier Olympics post, but there's no denying that taking home gold is oh-so sweet and inspiring). If you still have Olympic fever like I do, you're in luck! The folks at Stack TV have a whole series of online videos that highlight how U.S. Olympians train and prepare for the big games.

The vids not only give you some new killer moves for the gym, but they also got me out of my post-Olympics funk. Be sure to check out any of the moves with U.S. basketball player Katie Smith. That girl is tear'n it up!
Pretend the Olympics aren't over.
Pins and Needles
Can something as simple as a few pins and needles help you lose weight? It just might. According to an article by Men's Fitness*, acupuncture can increase your energy levels and speed recovery from injury. It may also reduce your appetite.
Although I've never tried it myself, I have good friends who swear by the power of acupuncture. I would imagine that anything that gets you into a deep relaxed state is good for just plain living, but I am intrigued by the "ear points" that calm the spirits. I like to think that I have a spirit that can never be tamed…
Get stuck.
—Jenn
*Why was I reading Men's Fitness you ask? Well, maybe to see this, um, I mean do research. Mama said knock you out.
Photos grabbed from http://flickr.com/photos/cosmickitty/201475810/; http://media.photobucket.com/image/phelps/anna_yup/Img214523914.jpg?o=15; http://flickr.com/photos/mikefats/10920514/.