Some women love shoes. I love cheap shoes.
I've had a love for cheap shoes ever since I was little. I remember getting those little plastic high heels in the toy aisle of the grocery store. I went through so many plastic jellies that to this day I still have fond memories of the shoe, so fond, in fact, that I may have picked up one and tried it on at Target the other day although it was about 8 sizes too small.* (I swear, even if it had fit, I wasn't going to buy it. That would be silly.)
In my adult life, my cheap-shoe love has translated into flip-flops. Many, many pairs of flip-flops. They're cheap, they're comfortable, and they're easy to slip on and off. I can even buy them at the same store where I buy cereal.
Jenn also has a love for flops, although I think my love borders on the extreme. We are so much alike that not only do we share creepily common interests, likes and dislikes, but we often have identical ailments. So much so that I think we should be documented in medical journals on how non-twins can in fact be the same person. So when I started having flip-flop induced foot pain recently, I called Jenn to complain about it.
The conversation
Erin: So my foot really hurts. I think it might be my flip-flops.
Jenn: Been there, did that.
Erin: Describe the pain.
Jenn: It hurt. It started where my toes bent…
Erin: …the second toe …
Jenn: …went up the middle…
Erin: …straight up the middle of the foot…
Jenn: …made worse by anything other than sitting down…
Erin: …I'm hobbling everywhere!
Jenn: I had to wear those pink flats for months.
Erin: Ah, BUGGER.

Because my foot feels awesome after a couple of weeks of wearing tennis shoes, and terrible when I put flip-flops back on for even a short walk with the dog, I have exiled the offenders to the back of the closet for at least another month.
But even though I've sworn off flip-flops for the near future, my interest in the cleverly named FitFlop is acute. These chunky sandals are designed to challenge the muscles of the foot and leg while you wear them, and are said to work your bum and other hard-to-reach muscles with every step. The makers claim the shoes make it easier to stay in shape.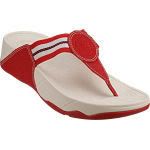 At $49.99, they certainly don't fit into my "under $10" flip-flop limit, so I won't be buying them any time soon. But I am intrigued by user comments. While no one claims to turn into an Olympian overnight, some users do claim that FitFlops have curbed foot, back and hip pain, while others just swear by their comfort. And judging from the comments following this article, people are passionate about this product, whether they love it or hate it.
What do you think about the FitFlop? Do you have a pair? Would you give them a shot? —Erin
*Jellies came back, just like all truly great trends do. Wonder if they've worked on the problem of rocks getting stuck in the heels?
Photos grabbed from www.photobucket.com.