Get Real, Box It Out, and Float Away
Americans advised to get real about weight loss, a Wii study names boxing best, and a gym with one heck of a view.
Reality Bites
A group of obesity experts recently issued a wake-up call to Americans, especially those addicted to reality TV: Get real
for reals
. The group says that because Americans are bombarded with
reality TV weight-loss shows
where contestants drop massive amounts of weight in record time, advertisements that promise huge results and various media reports that praise extraordinary weight-loss feats (like the
man who dieted on McD's
), everyday Americans think that unless they lose 40 pounds in a month, they suck.
The Fit Bottomed Girls already know that, when it comes to weight loss, slow and steady wins the race. But, seriously, you would have to pry the remote from my cold, dead hands before I'd give up The Biggest Loser. Realistic or not, I'm addicted.
Come back down to earth.
Next time you're faced with deciding between Wii golfing or Wii boxing, go with the latter. According to a study by the American Council on Exercise, Wii boxing is intense enough to be considered a cardio workout. In 30 minutes, the average calorie burn of the subjects (20- to 29-year-olds) was 216 for 30 minutes. Wii tennis, my personal fave, came in with 159 cals burned. Wii golf was the worst with 93 cals. TKO, Wii boxing, TKO.
Wii Sports was the first game I ever played on my Wii, and this is a good reminder to go back and visit it. I'll probably never substitute my "real" workouts for these virtual games, but it's better than sitting on my arse. I should also mention that ACE has already begun studying the Wii Fit. Can't wait for those results.
Okay, so this isn't new by any means, but the FBGs recently came across this futuristic health club design and had to comment. The River Gym consists of a number of small pods that are powered through exercisers' expended energy. These boat-like-things then carry both exercisers and passengers (?!) around New York as a new form of green public transportation.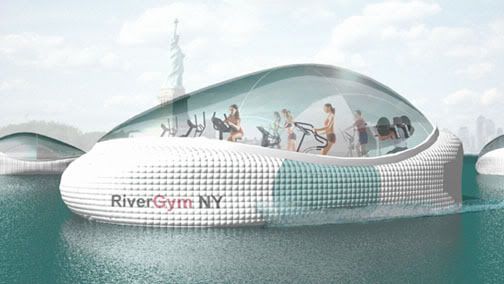 Whoa, I'm all for going green, but would they expect for you to pay to workout like this? I get that the view is good and all, but I might feel like a bit of a mule pulling all of New York around.