Free Yoga, J-Simp's Brew and Voterobics
September is Yoga Month, Jessica Simpson pimps functional beer, and politics get physical.
Get Bendy
If you've ever wanted to try yoga, but were too timid to try a class or balked at the price of a class (usually upwards of $20 a piece), your excuses are all dried up. September is Yoga Month and a number of yoga studios across the country are hosting free events and classes to inspire people to try and enjoy the health benefits of yoga. All they ask is that you make a small donation to the Youth Health Alliance or another charity (there are a ton that can benefit), which is quite the deal if you ask me.
The FBGs are huge fans of Rodney Yee DVDs, but I have been meaning to get out and take some live yoga classes. Looks like there's no time like the present. Although 10 cities are listed as participating in the event (Austin, Miami, New York, LA, San Diego, San Francisco, Denver, Chicago, Boston and Vancouver), many more cities across the country are participating, so be sure to be on the lookout for fliers and ads.
Liquid Nutrition
What's Jessica Simpson been up to lately? Besides disrupting the entire Dallas Cowboys' team, that is? (And if you could really care less about J-Simp, hold tight. You don't want to miss this.)
Miss Chicken of the Sea is drinking beer. And endorsing it for its health benefits. No joke. Her latest sponsorship, Stampede Light Beer, is marketed as a health beer that is fortified with "the stuff your body loses when you drink alcohol." Each 12-oz bottle has 115 calories and has 3.8 percent alcohol by volume. Generally, I prefer wine to beer, and I seem to ruffle at the idea of Jessica telling me what to drink to be fit, but yea, I guess it's another option when you're out at the bartrying to keep the cals down.
You better be 21.
Flex Your Political Muscles
With the presidential race in full swing, it's time for all of us to exercise our right…to vote…and work out at the same time! That's what the Sports Clubs Network of clubs (including Sports Clubs in New York, Boston, Washington and Philadelphia) wants people to do. Their VOTERobics Circuit Workout mixes cardio, endurance and agility for a sweaty election-themed time.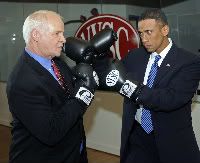 All of the exercises in the circuit are quite clever. My personal faves are the Right Wing-Left Wing, a plank on a stability ball or mat while tapping feet out left and right, and the Get On Your Soapbox, step-ups on a "platform." And in the Voter TKO, you go through a series of punching drills, hitting your choice of McCain or Obama with a a boxing mitt, your choice. Besides getting people fit, the clubs have also partnered with Rock the Vote to help drive voter registration. Now that's a campaign we can get behind.
Voting burns cals!

Photos grabbed from http://www.photobucket.com, and courtesy of New York Sports Clubs.