We all need a kick in the pants now and then. Maybe you fall in a routine, just going through the motions and forget to really push yourself. Or one day off has turned into two months of not working out and you need to get back in gear. Two recent television events have inspired me to push myself a little bit harder, getting me out of a bit of a recent exercise slump.
Inspiration One
Watching the Olympics really got me fired up to push myself a little harder in my workouts. Granted, these athletes have made it their job to work out and be winners, so I can't compare my abs to theirs, but I can use them as inspiration. I'm sure when they go to the gym or jump in the pool or pull out their badminton racket, they're not just lifting a few weights to get by or dog paddling down the lane to complete their workout or playfully hitting the birdie. They put their whole body and mind into their workouts.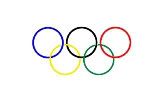 Trying to really engage in my exercise sessions, I've found that if I'm really focused for that period of time, my muscles burn more, my heart pumps better, and I really feel like I've worked out. When my mind isn't in it, I leave the gym feeling like I just logged the bare minimum. And bare minimum won't make you a champ.
Inspiration Two
I've had the Discovery Channel's Navy Seals: BUDs Class 234 in my Netflix queue for about two years. I've had it in there because Navy Seals are the most bad-assiest of all humans, I'm pretty sure. And now that I recently moved it to the top of my list and watched all three discs, I'm convinced. The documentary shows these military men in their journey to become Navy Seals, and the thousands of push-ups they do to get there. I've never seen a more grueling and exhausting workout regimen. It looks like torture compared to my little workout videos, yet these guys do it willingly day after day. Imagine doing an hour of calisthenics, then being expected to go on a 4-mile run, and then getting in the ocean and paddling in freezing water for hours against the waves, followed up by lifting insanely heavy logs to learn how to work as a team. My muscles ache just thinking about it.
The most interesting part of the show is how it demonstrates that mental strength is just as important as the physical. All of these guys are doing the same work, and it's only the ones who want it badly enough—who want to push through—that can achieve the rank of Navy Seal. If you watch it and aren't inspired to push yourself a little harder, I'll go jump in 60-degree water in San Diego.
Just thinking about Michael Phelps pushing himself through the water for an amazing finish or these Seals going through Hell Week on almost no sleep is enough to make me hold my planks for just a little longer when I feel like I'm about to collapse. After all, boot camp videos may be tough, but they're not boot camp.—Erin
U.S. Navy photo by Mass Communication Specialist 2nd Class Michelle Kapica. Olympic photo snagged from www.photobucket.com.