Workout Downloads, Run for Life, and Fit Feet
Workouts to go, running for youth and warnings for flip-flops.
iWorkout
Turn on your computer and plug in your iPod. ExerciseTV has three new workout series available for download on iTunes. The three workouts Everyday Yoga & Pilates, Slim Down Secrets, and Ultimate Sculpt and Tone cost $1.99 each with a run time of about 20 minutes. Check out the 30-second preview free of charge.
These videos could be a great option for working out on the road. Your own personal trainer, on the cheap.

Beating the Clock
Looks like I need to pull out the running shoes and embrace my least favorite cardio of all time. A study from Stanford University School of Medicine shows that regular running slows the effects of aging.
After tracking 500 runners for more than 20 years, researchers found that elderly runners have fewer disabilities, a longer span of active life and are half as likely as aging non-runners to die early deaths. Ok, maybe I'll start running. But I don't have to like it.
Step Kindly
As I was dealing with the repercussions of wearing
flip-flops
, and wondering about the benefits and drawbacks of the FitFlop,New York podiatrists were busy toeing around the same issues. The foot doctors urge consumers to realize that shoes touting fitness benefits force the foot to actually function differently, and if not used correctly, can cause more harm than good.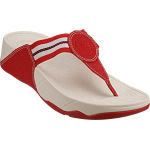 Among several others, the foot docs checked out the claims of the FitFlop and weighed in. One doctor says there are some benefits to wearing FitFlops, one being that the thick sole offers increased shock absorption over the standard flop. However, feet work harder with all flip-flops just to keep them on, increasing the occurrence of tendonitis and other injuries. I think I'll stick with my supportive tennis shoes for now.

—Erin