10 Minute Solution: Quick Tummy Toners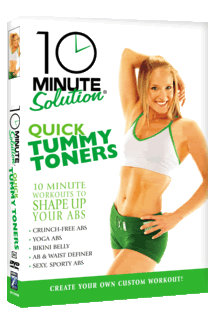 While I loved the marathon Mindy Mylrea video that had me doing 60 minutes of cardio, I also love videos that allow me to fit short workouts into my life. These types of videos let you customize your routine depending on how much time you want to spend. With 10 Minute Solution: Quick Tummy Toners you can do 50 minutes of abs, or mix and match the sets. Instructor Jessica Smith (warning: Sweet Valley High flashback) has an all-American name and reminded me very much of what I imagined all-American fiction twin, Elizabeth Wakefield, to look like. The studio set was also fabulous; I fantasize about having a room that large with hardwood floors to work out in on a daily basis.
Crunch-free Abs
The DVD kicks off the ab party with nary a crunch in sight. Instead, the focus is on keeping the core engaged at all times while doing several levels of moves. For example, level one would be a seated move, feet planted on floor, twisting to work the obliques. Level two would be the same movement, but hinging back farther, and level three is the same move with the feet lifted off the floor. The progression of moves allows you to stick with the basic moves, or kick it up a notch if you're ready for more of a challenge. Smith does a great job of cuing to make sure you're breathing properly and reminding you of proper positioning. A series of planks really engage your abdominals, and I loved the one where you're twisting side to side while pulling your arm back, almost like a one-armed row. Toward the end of the segment, balance work on all fours is followed by "hula hips," a pelvic lift followed by hip rotations. Aloha!
Yoga Abs
The yoga segment is a nice break from a busy day. You fit in some moderate hamstring stretches with down dogs, while targeting the abs with planks that also hit the arms. With some lunges and warriors plus added twists, you get yoga-centric moves that target the obliques. Jessica demonstrates tree pose, which works your core almost subliminally and tests your balance, but boat pose definitely hits you hard and lets you know you're working your mid-section.
Bikini Belly
This short cardio segment is designed to get you working your abs while on your feet. It builds on several basic moves, adding on until you get a complete cardio routine that you repeat. With basic step touches combined with twists and ab scoops, you add in moves such as side lunges with repeater knees. Squat-jacks with torso twists, slow jacks, and jump rope moves complete with squats and an oblique-targeting swoop of your "rope" finish off the cardio set. It's not sprint-quality cardio, but it's great if you're pressed for time and energy, yet still want to cross cardio off the to-do list.
Ab & Waist Definer
This segment focuses on rotational movements that hit the waist and wrap into the lower back. Different from the traditional crunch, you start on your knees and do a series of twists and reaches to the side and back. One newmove for me was a reverse oblique twist in which you start on your hands and knees and rotate backwards. This one also builds on levels of difficulty and Jessica varies the tempo to challenge your muscles. A static lunge with crunches is a good double-duty movement that also tests your balance.
Sexy, Sporty Abs
Touting "functional strength you can use," I liked this segment for the soreness I felt the next day. Jessica tells you how certain moves will help you with certain activities such as skiing or volleyball, and it's nice to learn about how the new strength can be applied in real life. This segment is the most difficult of all of them. Long-legged crunches with stacked feet, scissoring legs in the air, jackknifes, and a moving-legged rope pull definitely hit you where it counts. The side planks had me feeling it, and then the planked side crunches were the cherry on top. Bicycles and reverse planks rounded out the segment.
While the video didn't wow me like crazy, it is definitely a solid one to throw in the DVD rotation, and the mix-and-match format is a winner.
FBG Rating (Out of 5):
Instruction: ★★★★★
Long-Term Likeability: ★★★
Music: ★★★
Fun Factor: ★★★
Meets Expectations: ★★★
Overall: ★★★
Fit Bottom line: This solid and straightforward ab video will remind you of those oldies and goodies minus the bad hair, as well as introduce you to some new moves for your mid-section. —Erin
Check it out at Amazon!
Want more reviews? Read the Fit Bottomed Girls' new release reviews and retro reviews. For more on how our ratings are determined (it's not a science, but we do have some method to our madness), read our review criteria.