Reebok Inspires, the Government Issues, and Survey Says
Reebok brings back the fun, the government releases new exercise guidelines and researchers say more community wellness programs are needed.
Less Work, More Play
The talented people over at Reebok recently launched a new initiative to make workouts more fun for women. To do so, Reebok teamed up with 19 fitness instructors from around the world, each of who a unique perspective on fitness. One of those instructors is Jennie Widegren from Switzerland:
Jennie specializes in dance but does a lot of work in the gym and practices yoga, too. She believes that fitness is a way of living and is inspired by music and results. Her fitness philosophy is that energy creates energy and if you set your own limits, then you can do anything you want to do. I like it. Check out Jennie's profile and the other instructors below. Prepare to be inspired.
New Rules
How much exercise do you need each week to reap substantial health benefits? According to the U.S. government, the magical number is two and a half hours of moderate aerobic physical activity or one hour and 15 minutes of vigorous physical activity each week for adults. The kiddos need an hour or more of physical activity. According to the report, walking briskly, water aerobics, ballroom dancing and general gardening are moderate-intensity aerobic activities. Vigorous intensity aerobic activities include race walking (They really said this. Who does that besides Olympians?), jogging, swimming laps, jumping rope and hiking uphill. To up the health benefits, grownups should increase their aerobic physical activity to five hours a week at a moderate intensity or two and a half hours a week at a vigorous intensity. Adults should also incorporate muscle strengthening activities, such as weight training, push-ups, sit-ups or heavy gardening, at least two days a week for maximum benefits. Confused yet? I should note that this is the first-ever official physical activity guidelines released by the Feds.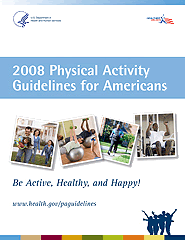 I had to do a quick tally in my head to see if I hit the guidelines, and most weeks I do meet the two and a half hours a week at a vigorous pace recommendation. (And, yes, I patted myself on the back for doing so.) How about you? Do you meet the new guidelines? Love them? Hate them? Perplexed by them?
Room to Improve
Following the release of the government's physical activity guidelines came a study showing that people need more community wellness options. The Amway Global Wellness Index, a study of more than 15,000 Americans, shows that nearly one in five say that they have never participated in a group activity, such as walking or biking with family or friends. And 23 percent are not exercising for at least 30 minutes on a regular basis. Ouch. My fellow Americans, why so anti-social and inactive? (I, of course, say this in jest as I usually workout alone and gave up my workout last night to watch The Rachael Zoe Project.)

The survey also found that while many Americans are satisfied with their communities' wellness offerings—such as access to group exercise classes, personal trainers and nutritionists—there's definitely room for improvement, as fewer than half of Americans are highly satisfied with their offerings. In fact, the more Americans claim to exercise, the higher researchers found that they rated their community's physical activity options, including parks, walking paths, organized sports, gyms and more. The plot thickens. Almost half of who exercise on a daily basis rate their community offerings as "very good," versus 28 percent of those who do not exercise at least three times per week. Researchers didn't really dissect what any of this means, but it seems to me like the more people work out the more they appreciate their community's offerings…or maybe they workout more because of the offerings? My brain hurts.
Info overload (and tips!).
—Jenn