These Boots Were Made for Walking
A few weeks ago, I blogged about the awesomeness of hiking. And today, I'm going to tell you again that, yes, hiking is awesome, BUT that your arse better be prepared. In my previous post, I touched on how you need to have proper clothing, a first-aid kit, and plenty of food and water, but what I didn't get into was shoe ware. Shoes are oh-so important when hiking.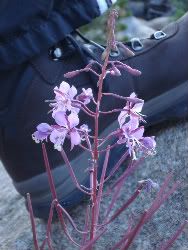 During the summer of my freshman year in college, my now-husband/then boyfriend and I drove to Colorado during the summer of our freshman year. We had a tent and a camp stove but were basically completely unprepared for hiking. So, we went into Estes Park to buy backpacks and hiking boots. We bought the best quality shoes that we could afford—$75 high-top all-leather boots. And we spent the next few days breaking them in on 6-, 7- and 8-mile trails. It was glorious, and we thought we'd found the hiking boot Holy Grail, as neither one of us ever had even a mild problem or blister in our boots.
Over the next five summers, we repeated what became an annual pilgrimage of hiking and camping in Colorado. Then we had a two-year hiatus (a trip to Europe and then a honeymoon, I know, boo hoo). This past summer, we both knew that we had to go back,so we booked our camping spot and packed up the car. By this time our shoes were in dire need of replacement. Mine were beyond weathered, and my husband's were literally falling apart. No big deal, right? We'll just go into Estes Park again and buy new ones. Oh, how wrong we were.
We bought the exact same shoes that we had six years before (inflation only up to $88—a steal!), but the outcome was much different this trip. After even a 6-mile hike, I had blisters on my heels, and during a marathon, okay, half-marathon hike (about 13 miles), my husband was wincing from pain from bruised ankles as he came down the mountain. And my man is not a wussie. I may be, but he's not.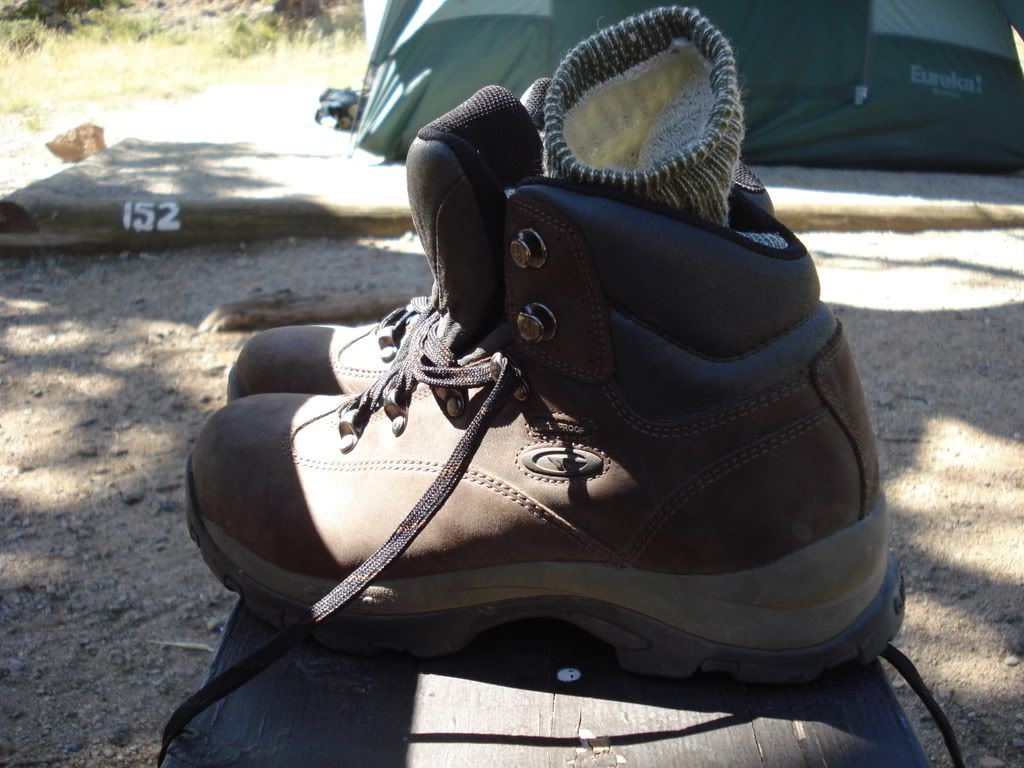 We made the stupid assumption that because they were the "same" shoe on paper, they'd fit like our old ones. Dumb, dumb, dumb. And while we still had a great time, it could have been far less painful if we'd heeded the below words of wisdom from L.L. Bean. Note that each tip is followed by my own personal reasons why we're morons or general observations:
1. Your enjoyment on the trail rests literally on your feet. Why had I never looked at it this way?
2. Nothing can end a great outdoor experience quicker than painful blisters, pinched toes or even injuries caused by inappropriate hiking boots. Where were you BEFORE my trip, LL Beanie Weenie???
3. Before you begin shopping for a pair of hiking boots, think carefully about what kind of hiking you plan to do. We were planning on doing kick-A hiking, so chose kick-A boots…makes sense, no?

4. Choose boots that are designed to support the load you expect to be carrying. The heavier your load, the more support you will need. How dare you ask me about my "load?!" That is sooo none of your business.

5. Remember that great hiking boots do not have to weigh a great deal. Today's high-tech materials have replaced the traditional metal shank and other heavy elements. Oh have they? Tell that to my quads the day after we conquered Lily Mountain.

6. Consider the various advantages of fabric-and-leather boots and all-leather boots. Fabric-and-leather boots are lighter and easier to break in, but all-leather boots offer added protection and durability in rigorous terrain, as well as being water resistant and breathable. Great, so it's either high-quality pain that lasts forever or low-quality comfort that lasts a season. Sigh.

7. When trying on boots, wear the socks you plan to wear on the trail. Try boots on at the end of the day when your feet are more swollen. Did it, didn't matter. Still hurt like a mo-fo.

8. Boots should feel snug but comfortable, so you can still wiggle your toes. Most hiking boots won't feel as instantly comfortable as sneakers, but they shouldn't pinch, cause hot spots or constrict circulation. Check, check and check! When we tried on our boots they felt snug as a bug in a rug, but not so snug that I couldn't feel my feet.
9. When trying on boots, try walking down an incline. Your feet should not slide forward, nor should your toenails scrape against the front of your boot. We both tried this, too, in the store. And it was fine. Until we hit the trail. Come on L.L. Bean…tell me, what happened?!

10. Once you purchase a pair of boots, break them in slowly with short hikes. Leather boots in particular take a while to break in, so take a couple of two- or three-hour hikes before your big trip or wear them around the house or even while mowing your lawn. Ahhh. Whoopsies…
What about you? Any shoe horror stories?—Jenn