It seems like the rage these days in food is fitting more "good stuff" into products we already know and love. Take plant sterol fortified OJ or the official FBG pumpkin muffins or even toaster pastries with extra fiber as recent examples. It bothers me that many times these types of food get labeled as healthy, even though they're loaded with sugar and preservatives. But in moderation, I'm cool with it. Especially those pumpkin muffins. Yum.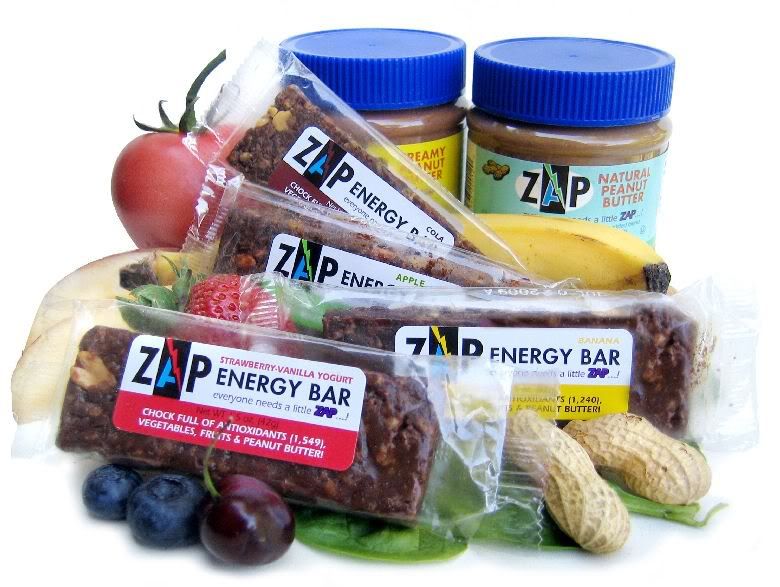 Another food-plus product that I'm cool with is Zap Peanut Butter. This stuff has what's usually in peanut butter—peanuts—plus beet, carrot, spinach, sweet potato, banana, tomato, blueberry, orange peel, strawberry and tart cherry. Whew. That's a lot of good stuff. PLUS, it tastes good. You can barely taste the added ingredients, and it's especially delicious on toasted wheat bread with a drizzle of honey or agave nectar. Warm and melty, yum.
The founder of Zap, Dr. Z, sent Erin and me a couple of jars of the natural creamy and creamy PB, along with a sampling of Zap's energy bars. Dr. Z has recently been working with different school districts to get the peanut butter in school lunches, as it's a sneaky way to get more nutrients into our kiddos. In fact, the products contain more antioxidants per serving than nutritional powerhouses spinach or kale. Score!
While the peanut butter was by far my fave of the Zap products, the energy bars weren't bad. They come in two sizes: 1.5 oz. or 2.5 oz. The smaller size has about 170 calories each, and the larger ones come in at 290 cals. While the 2.5 oz. bars had too many calories for me to really be a snack, I did eat the large strawberry-vanilla yogurt bar as an emergency meal replacement, and it kept me full for four-plus hours. According to Dr. Z, the bars are made with all-natural dehydrated fruits, veggies and peanut butter that actually expand in your stomach. Food science is so cool.
Overall, all of the bars kind of tasted like a grown-up fruit roll-up, were pretty chewy and surprisingly weren't overly sweet like I find many bars to be. My favorite flavors were apple and banana. The super-filling strawberry-vanilla yogurt was pretty good with an almost sweet potato and strawberry flavor, plus it had some yogurt in it which tasted kind of like icing. My least favorite was the cola flavor, which was more spice cake with a cola aftertaste than anything. But, if you love washing spice cake down with Diet Coke, this could be your winner. 
The bars and peanut butter are a little pricey at $15.95 for four 12-oz. peanut butter jars or upwards of $12 for a box of six energy bars, but tell me, are you willing to pay a bit more for foods that are fortified with fruits, veggies, antioxidants and more? What about for your chillins? Do you like this food-fortified stuff? —Jenn