Staying properly hydrated is always important, but all the more so when you're being active. Check out some of the new hydration helpers now available.
Active Aqua
I'm typically not a fan of flavored-water drinks. Gatorade tastes weird a
nd dry to me for some reason, and some flavored water tastes thick. But I could get used to Vital Action Performance Water. While I'm not sure how much a water can really boost energy, stamina and recovery, this one has ingredients like Echinacea and panax ginseng to give you a boost. I did like one important factor: the taste. The water doesn't taste thick or weird. It has a hint of sweetness and tastes a little like watered-down Kool-Aid. Pink was a yummy strawberry flavor, while Purple took me back to my childhood and the little grape drinks we got at the grocery store when my mom was feeling generous. Orange was of course orange (and my hubby's favorite), but White's lemonade flavor wasn't at the top of my list. If you don't like drinking plain water while working out and don't like some of the options out there, give this stuff a shot. It's better for you than Kool-Aid.
Like Water for Chocolate

I sometimes have a hard time trying new things, so it was with much trepidation that I gave Cabaret's Brewed Chocolate a shot. It taught me one thing: Stop being a pansy! Unlike thick, hot chocolate, brewed chocolate is light, like a chocolate-flavored tea. While you can add cream or milk, I liked it in its natural state: light, chocolatey and refreshing. It's said to give the mood a boost and increase energy while also having a calming effect. I didn't notice the energy boost, but I did like the calming effect and the warm, fuzzy feeling it gave me. I'm especially interested in trading in my jitter-inducing coffee for awhile and seeing how the chocolate works in the morning. Each teaspoon contains only 24 calories and will make 4 ounces of the beverage. It pays to try new things!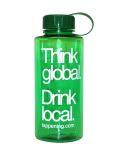 What's Tappening?
I swore off drinking bottled water long ago in favor of refillable containers and tap water. But who knew tap would become trendy? Now, the Tappening campaign has begun to encourage people to make tap their water of choice when possible because of the cost and pollution associated with the bottled variety. The Tappening campaign offers BPA-free plastic bottles with slogans "What's Tappening?" and "Think Global, Drink Local." Tappening also offers a bag made with 100 percentpost-consumer recycled materials in case you need a new gym bag.
Pups Drink, Too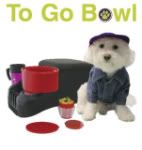 Taking the pooch on a road trip just got easier with the To-Go-Bowl by Furry Travelers. Whether you're headed to the park or just on a quick errand, the dog bowl will help Fido stay hydrated. The water bowl is designed to fit into a car's cup holder—and it holds both water and treats. Although it says it prevents messes, I'm sure my furry friend would manage to slosh water about, but it's just water, right? —Erin
Want something solid to munch on? Check out our jalapeño poppers review or how to eat good in the neighborhood at Applebee's.