Mid-Workout Motivation (and a Giveaway!)
When I think about motivation and working out, I typically think about the motivation to start working out. Whether it's to start a workout program from a sedentary lifestyle or to fit in a workout that day, getting started is the hardest part. But what about mid-workout motivation? When you're doing a hard run or lifting some tough weights, what makes you keep going? Sure, you know you'll see results, but sometimes when the burning is too much to bear, how do you transcend the pain and push through?
While I'm not sure I have any answers to that question, I did impress myself twice last week with my sticktoitiveness mid-workout. I was short on time last week, so I popped in my staple Biggest Loser DVD, and did the low-intensity cardio segment, which is a solid workout and clocks in at 20 minutes. There is a point in the segment where you do a million lunges and then you move into squats. Even though I'm in shape, I've never finished the squat portion without taking a short break. Because not only do you do a million squats, but Bob also makes you hold it at the end. For like an hour. And by that point, my legs are shaking, my butt is twitching, and I think I'm going to collapse. But this time, I fought through. I went somewhere deep inside, transcended the pain-time continuum. Or something. Regardless, I held it for the eternity that he told me to. My legs were wiggling and jiggling when I was done, but I did it. For the first time, I held it the entire time. It was a proud moment.
The next day, I must have still been feeding off that high when I did the hardest ab workout I've ever done. (Look for the review of Core Fusion Body Sculpt on Thursday). This 7-minute ab workout was the epitome of "hard core" (haha). But by the time I was done, I felt very accomplished. And somehow, I wasn't sore the next day, which made me even more proud of how strong my abs have gotten lately.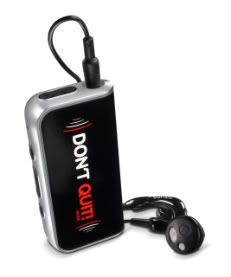 And I'm not the only one who is interested in motivation maintenance. After having these two zen-like moments of workout bliss, I received a Sansa slotMusic MP3 player in the mail, specifically designed to keep you moving in your workout. The player and earbuds come with a Don't Quit! music card that has 25 high-energy songs. I'm always a little nervous about getting techy products figured out, but this was super easy. You put the battery in, plug in the buds and push play. Presto! Pump up workout music is playing instantly. And it's not a mix tape: it's more house music with great beats. It's perfect for cardio if you need to space out without any lyrics interfering with your concentration, but I love it for strength workouts at the gym. These earbuds do have some cushion that help it stay in my ear, but I'm ready with my marshmallows if needed.
Now, I know it's hard to find time and motivation in the busy holiday season to work out. But, Don't Quit! If you'd like to win this fun little MP3 player, shoot us a comment below for a chance to win (U.S. residents only). It would also make a great gift for anyone who is technology challenged but would love to move in a high-tech direction! And if you don't win, the product is still affordable at $34.99. —Erin
Still on your coffee break? Check out the Fit Bottomed Girls' thoughts on partnering up to work out and a hard core boxing workout.