Sometimes You Feel Like a Nut
Nuts are misunderstood. Because of their high calorie and fat count, they're oftentimes shunned when, in fact, they are little nutritional powerhouses brimming with deliciousness. No, it's not a good idea to eat a pound of salted cashews in one sitting, but, in moderation, these puppies provide healthy fat, vitamins and minerals, making tummies everywhere happy. Not to mention that while eating nuts, you always have an army of immature jokes just waiting to be made.
We already know I'm a peanut butter fan, but I recently added almond and cashew products to my nut repertoire. Turns out all kinds of nuts are being used to create milk, cheese and butter for those who have gluten or milk allergies, or for those who are avoiding animal products or are obsessed with eating nuts in new ways. I'm no vegetarian and I have no food allergies, but I love trying new foods, so on a nut adventure I went.
My first new nut experience was with almond milk. I tried the Blue Diamond Almond Breeze vanilla and chocolate milk and, with about 100 calories a cup, it was pretty darn tasty. Both beverages were mildly sweet and had a nice almond-y flavor, as one might expect. I drank it plain as dessert and added it to my cereal and oatmeal in the mornings, and I really enjoyed it. Not to mention that it was high in calcium, vitamin D and vitamin E … delicious.
While trying a vegan restaurant recently, I opened my nut horizons to include cashew cheese. I'd heard of this cashew cheese company before, but I'd never actually tried it. I sampled a curried variety that tasted like a yummy hummus and my husband and I gobbled it up like we hadn't eaten in days, even though it looked more like grainy mustard than anything resembling cheese. (I urge you to get over the look though—it's tasty enough to ignore.) Heck, even Emeril is diggin' the nuts these days. (That's one of those jokes I told you about.) Here's a recipe for homemade cashew butter that I haven't tried, but it's only a matter of time. I love cashews after all.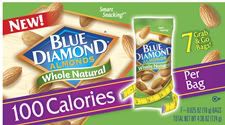 And, if you're not ready to get too nutty, go for the basics. These 100-cal packs even make sure that you don't overdo it with your portions. But feel freeto tell us your opinion on nuts below. Do you go all out with them and buy milk, butter and cheeses? Do you stick with nuts in their true form? Or do you forgo the nuttiness altogether? —Jenn
Want more to nosh on? Check out my experience with Tofu Shirataki Noodles or Erin's fast-food salad guide.
Top photo grabbed from http://www.flickr.com/photos/steffenz/2079743107/.