Top Trends, Rewards for Weight, and the Presidential Palate
Fitness trends of 2008, dollars and pounds, and eating in the White House.
What the Cool Kids Are Doing
The American Council on Exercise
(ACE) recently announced the top 10 fitness trends for 2009 based on an annual survey of its worldwide network of fitness pros. Bootcamp-style workouts, the most popular workout in 2008, will stay in the top spot for 2009. Additionally, consumers are expected to tighten wallets when it comes to staying in shape in the struggling economy. With studies proving the effectiveness of bootcamp workouts, we bet it's a trend that sticks around long term. Also named top contenders: dance-based classes (yay Zumba!) and kettlebells.
Mone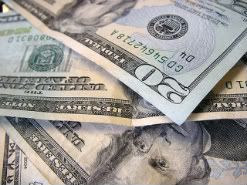 y Matters
When I was 10, getting a monetary reward was great incentive to do miserable chores. Turns out, earning dough can also be a great incentive to lose weight. According to a recent study, overweight or obese dieters who were trying to shed weight lost 13 to 14 pounds in four months if they stood to win or lose money. The dieters who had no monetary motivation lost only about 4 pounds. But after seven months, the cash group regained some of that weight. So if you need a kick-start to a weight loss goal, try rewarding yourself with a cash prize if you meet your goal, but look to a healthy diet and exercise for long-term results.
Presidential Dinner Plate
We already know that President-Elect Barack Obama leads an active lifestyle. Now, his food choices are under the microscope. Bloggers have discussed his favorite eats, and now a prominent chef is urging him to set an example in the naming of a White House chef and growing vegetables in a presidential garden. With major matters like the economy at hand, a garden is probably not his top priority, but Michelle Obama seems open to the the idea. Either way, I'm sure the First Family will get its veggies.
—Erin