No Cure, a Pound for a Pound, and the Slow Creep
Exercise may not cure obesity, The Biggest Loser gets charitable, and we all need fewer cals as we age.
Exercise Isn't an Obesity Cure

According to a new study, exercise may not be the solution to America's obesity epidemic. In fact, diet may reign supreme. I must note that this study contradicts a few other studies and concurs with some others, as most frustrating research does. One day it's one thing; the next it's something else. Which leads me to my soapbox…
Okay, I know that exercise is only part of the weight-loss equation (diet is HUGE), but research that says that exercise doesn't play much of a part in dropping the lbs kind of ticks me off. Yes, I know working out strengthens bones, improves your circulatory and reduces risks of cancer, but I just feel that when people read studies like this, they just use it as an excuse to not work out. Don't do that, okay? Exercise helps build confidence, it improves your mood and generally helps you enjoy life more, no matter your size. Now who doesn't want that?
So please exercise, okay?
The Pound For Pound Challenge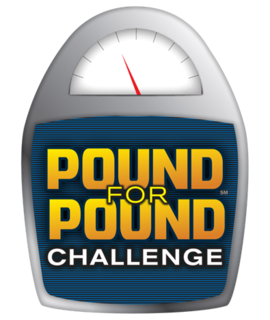 If you're been watching The Biggest Loser this season, (like we have) you probably have heard about the Pound For Pound Challenge, but you may not know exactly what it entails. And, if you've never heard of the challenge, read on, dear friend!
The challenge helps raise money for Feeding America, which provides low-income individuals and families with the healthy fuel to survive and thrive. To help the cause, all you have to do is lose weight. General Mills will donate 10 cents to the organization for each pound you knock off. Already at a healthy weight? You can also mail in Pound For Pound lids or seals on specially marked General Mills products. For every lid or seal mailed in, General Mills will donate 10 cents to Feeding America. Still want to do more? You can also donate directly to the organization. With a couple pounds from the holidays left to lose, I may do all three!
Eat Less as You Age

You may only be as old as you feel, but when it comes to your metabolism, age does matter. Bummer, we know. A recent study in the American Journal of Health Promotion shows that women who did not become more restrained in their eating as they aged had more than twice the risk of substantial weight gain than those who did. (Hey, I'm not happy about this research either.)
The FBGs are big on enjoying everything in moderation, but this probably means that as we age, our definition of "moderation" may not be able to include daily doses of chocolate, wine and full-fat cheeses. It'll have to be every other day, or even (panic!) once or twice a week. Damn.
Age is more than a number.
—Jenn
Photos grabbed from ninahale and jspatchwork on Flickr.