Top 10 Diets, Fishy Findings and Yoga's Sexy Bonus
Experts name top diets, fish outweighs its risks, and yoga may make you better in the sack.

Top 10 Diets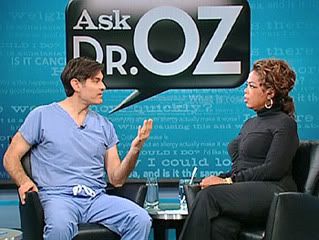 Around these parts, diet is a four-letter word. The FBGs are all about everything in moderation and regular workouts. But, we do have to admit that not all diets are created equally, and some have helped people get healthier for the long haul. I, for one, don't do so hot with having limitations on what I can or cannot eat (tell me I can't have something, and I want it NOW), but I get that others sometimes need and even like guidelines to follow. If you're one of those others, this FitBit is for you.
Health Magazine
recently had nutrition experts rank their 10 top diets. Dr. Oz's
You on a Diet
made the list, as did Weight Watchers. There were some surprises though, so click below for the full top 10.
Exceptions to the diet-is-a-four-letter-word rule.
Calm Those Fishy Fears

For years, moms-to-be, children and women-at-the-age-to-be-moms were told to lay off the fish, as its mercury content could be harmful. But, times they may be a-changin'. The FDA recently urged the government to change its policy because the benefits of fish outweigh the risks.
Mercury can damage the neurological development of fetuses and infants, and recent studies have suggested that mercury may also pose a health risk for adults, including an increased risk of cardiovascular disease. However, fish is a very lean protein and many varieties include the heart-healthy omega-3s. Myself, I like me some
sushi
and cook a lot of fish at home. But, I'm careful not to go too overboard. Heck, if
Ari Gold can be slowed down because of mercury poisoning
, you know you better be somewhat careful.
Go fish.
Yoga=Better Sex?

Looking to improve your sex life in 2009? If so, you may need to look no further than your local yoga studio. According to recent research, both male and female yogis have better sex than non downward-doggers. Besides the obvious benefit of increasing flexibility, practicing yoga can also make you more mindful, which, in turn, enhances arousal, desire and orgasms. It's a three-fer!
P.S. This research only adds fuel to our fire for Bob Harper.
Plank your way to better lovin'.
—Jenn
Want more news? Read about the final word on fueling up after workouts and how checking yourself out while you run is actually a good thing.