FitEquip: A Break From the Ordinary
Ever get bored at gym? Stupid question, I know. Even the rattiest of gym rats sometimes get sick of the same workout with the same fitness equipment. And, as a regular home-exerciser, I sometimes get tired of working out at home, too. Well, today's FitEquip is all about breaking from the ordinary. The two fun and somewhat funky items below are guaranteed to bust you out of any workout rut.
Good Vibrations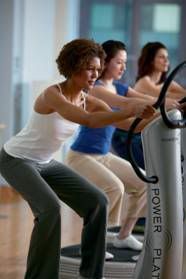 Ready to "shake up" your workout routine? (Har, har, right?) Say hello to vibration training. This puppy from Power Plate is mostly used in collegiate and professional athletic training, but it's also turning up in health clubs. Some big-name celebs are getting their shake on, too. Madonna, Heidi Klum and Hilary Swank are said to use vibration training to increase their strength, improve their flexibility and bone density, reduce cellulite and improve skin condition. Sounds like the fountain of youth to me. Plus, the vibration jokes are nearly endless. (And laughter keeps you young, right?).


Although there has been some disagreement as to whether or not vibration training is completely safe and effective, it's definitely becoming more popular. I've done push-ups and squats on the machines (the vibration adds a totally new and harder dimension to those exercises, by the way), and I've never felt like I was in harm's way. However, as someone who gets a little queasy on spinning rides at the amusement park, I get a little green after I've been shakin' for more than a few minutes. Power Plate recommends workout sessions of 10 to 15 minutes, three to four times a week for the best benefits.
Virtual Road Trip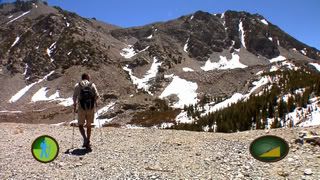 Some days, when it's, say, 3 degrees out, I really don't have the option of going out for a run or walk. I mean, I guess I could if I bundled myself in four layers of clothing, but that's just not fun in my opinion. Instead, I hit the treadmill, bike or elliptical either trying to get a good spot in front of a window or overlooking the weight room where I can giggle at the guys who are grunting and groaning under weights that are too heavy for them. (Gets me every time.) While I guess looking at a tree through glass or observing males in what they think is their natural habit is kind of like being in nature, I'd rather enjoy a more literal interpretation. That's why I'm kinda geeked at Virtual Active Travel and Connect 18. Both bring the nature to you, in a high-tech sorta way.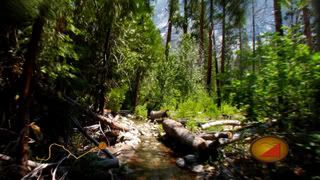 The two companies provide virtual running, hiking and cycling experiences to either your home TV or personalized-viewing screen at the club. You can go for a run in Yosemite National Park, hike to the top of Mt. Whitney or a bike around the island of Guadeloupe. Sounds better than staring at a wall or watching a repeat of The Housewives of Orange County, eh?
How do you spice up your workouts? Do you prefer high-tech, low-tech, or tech that mimics no-tech? —Jenn