FitLit: The Complete Beck Diet for Life and a Giveaway!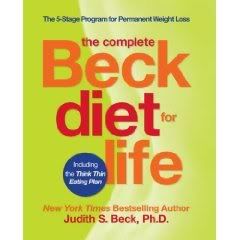 It's no secret that Erin and I aren't a fan of "diets" in the starve-yourself-for-weeks sense. But, after reading The Complete Beck Diet for Life: The Five-Stage Program for Permanent Weight Loss (let's just call it the "Beck Diet" from here on out, okay?), I have been shown that sometimes diet isn't a four-letter word. Well, I guess technically, it's always a four-letter word, but it's more of the "g-o-o-d" variety than other choice selections, for sure.
The Beck Diet is a full-out five-step program and is completely refreshing. As someone who once read diet fad books as a hobby, I wanted to scoop this one up, save it and hand it out like a weight-loss gospel. Unlike other diet plans that touch on emotional eating as a side note, this one starts the weight-loss process at the head. Dr. Beck doesn't just tell you to stay strong and motivated to choose healthy foods and behaviors, either. The book shows you how to create a system of note cards that highlight your own personal strategies for challenging situations and moments of healthy living triumphs for you to reflect back on when your weight-loss drive is waning.
The book is also chock full of good tips and reality checks. Dr. Beck addresses the anxiety around your eating habits and really tries to get you to focus, reduce distractions and enjoy your food. I read the book a chapter at a time, and each time I put the book down, I had something new to chew on. The big take-home message, for me, was that you have to relearn how to really eat and think. And once you build your confidence and have a plan, you're on your way to eating well for life.
The only things that I wasn't crazy about in the book is the attention to calorie counts and how much of the plan is built solely on willpower, which kinda-sorta rubs me the wrong way as I'm more of an intuitive/listen-to-your-body eater. And I'm on the fence about her strictly planned meals and snacks, where she actually wants you to feel your hunger because then you'll learn that hunger really isn't so scary. (Why do I have a feeling that this will spark some serious discussion…I get Dr. Beck's point that those who overeat are usually out of touch with their hunger and need to feel hunger again to get a hold of it, but it seems like this could encourage problems at the other end of the eating spectrum. Feel free to discuss below.) On the upside though, the plan is no quick fix and doesn't ever vow to be. Slow and steady wins the race after all.
Do you want to try this book yourself? We've got one copy to give away to a lucky U.S. reader. Just comment below on why you'd like to win the book. Comments will close on Monday at midnight, so get them in now! And if you're dying to buy the book right now, you can pick it up on Amazon for just $14.97! —Jenn

For more healthy reads, check out The Gym Survival Guideand an entire book dedicated to dessert!