Need some new cute and super stylish workout gear? Of course you do! And lucky for you, the FBGs have tested some new Puma duds and have a few recommendations. It's a tough job, but someone has to do it.
The Tank
Puma's Essential Tank Top is ultra soft and really comfortable (as is to be expected of uber-soft items). The tank also packs in an inner bra for added support and moisture management to keep you dry when you're working up a healthy sweat. Be aware of the cling factor during "that time of the month" or the "post-holiday-binge when you're feeling chubby in the tummy" because it is rather form fitting in the middle. A T-shirt style is also available.
The Tights

Jenn and I are both digging on the Puma running tights. In a capri length, these tights are super comfortable, while both keeping your legs warm and managing the moisture factor. The tights also have super hero features, such as a pocket in the back of the waist, and reflective criss-cross print in the back at the knee. Jenn thought these excessively accentuated the beauty of her calves, but I think those muscles definitely need attention drawn to them. She is training for a half marathon, after all, and everyone should know it! I loved how the seam on the rear cuts across the rump, which is more flattering than no butt seam, if you want my opinion. Jenn the running phenom also says that they are whisper-quiet on a run-–no crazy shooshing noises like some lycra has going on.
The Bag
Is your gym bag growing mold? Are you losing items because it has holes in it? Then we've got a replacement f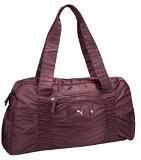 or you (we really do-–we're giving one of these bags away!). The new Puma bag is a great size and is large enough to hold a change of clothes, a hair dryer and toiletries for the gym. It's also modern and stylish, and comes in six colors. With an inner pocket and two outer pockets, you'll have a choice of places to keep your valuables. When not stuffed with gym gear, the bag can be folded up for storage.
Want to win this beautiful bag or sweet tank? Plead your case by leaving a comment or shooting us an email at contact@fitbottomedgirls.com by Sunday, Feb. 8 to enter to win. We'll randomly choose a winner at 7 p.m. EST. U.S. residents only, please! —Erin
Want more fitness style tips? Check out
products to keep your hair beautiful after a workout
and
the infamous running skirt
.