The Tracy Anderson Method Workout DVDs
Typically, workout DVDs evoke a lot of sweat, not emotion, so it's rare for a workout DVD to cause me to swing rapidly between rage and happiness, rage and happiness. Very rarely do I finish a workout DVD and say, "Huh. I have no idea what to do with that."
I, like most people, was first introduced to Tracy Anderson in my living room via Oprah (many good relationships are started this way—take Dr. Oz for example) during an episode where Gwyneth Paltrow shared how she got back into shape after baby No. 2. (She also has a post-pregnancy workout DVD, Tracy's Post-Pregnancy Workout.) Her method of working out piqued my interest and ticked me off. On the show (and in that clip) Tracy stated that no women should lift more than 3 pounds. I could literally feel women everywhere being transported back to the early 80s in their fitness thinking. But, Tracy definitely did get results (see right), and I was interested in seeing what her DVDs were like. So, I checked out the Mat Workout DVD and her Dance Cardio Workout DVD. As alluded to before, the results were, er, mixed.
Mat Workout DVD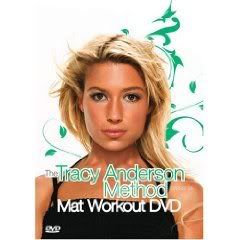 After a quick warm-up, this DVD goes through a full-body workout. You do about a gazillion leg lifts with a chair, followed by standing ab work that is basically a free-form dance with little instruction, and then a number of arm exercises, first with no weights and then with virtually no weight (read: three pounds). Next comes more leg work on the mat, a section of abs lying down and then a cool down. The moves are challenging, and there are no modifications shown for beginners. Boo.
You do A LOT of reps, which is pretty much Tracy's shtick. Almost all of the moves are fluid, so you definitely work a lot of large and small muscles, but the sheer amount of moves and reps definitely takes time to do. Tracy also has this weird way of watching her own body and pouting as she performs some of the exercises, almost as if she's checking herself out. Granted, if I looked like her, I might check myself out, too (again, see top right photo), but it's still weird.
Dance Cardio Workout DVD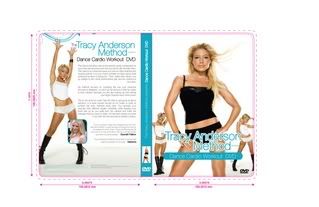 This one definitely had its fun moments. The music is techno-poppy goodness, and if you like to dance and have a little background getting your groove on, you'll probably love the moves. The DVD is not one of those that you can pop in and go. She teaches you eight dance combos slowly and then up to speed ( she cues all of these pretty well). That part takes about 45 minutes, but there's little chance that most people (myself definitely included) would be able to remember them all without repeated practice. From there, the DVD is just one big dance par-tay. She kicks up the music and you dance with her while she gives no instruction. She literally only says "5, 6, 7, 8," and off you go, doing a combo for an entire song that lasts about five minutes. Then it's on to the next combo for a full song. Repeat a total of times eight and you get the gist.
The moves are a little aerobics, a little hip hop and a lot ballet. All of the combos were fun, but I particularly enjoyed numbers one, three, four and seven. Five is too fast, six made me dizzy with turns, and numbers two and eight were just too complicated. All of the combos are high-impact though and require quite a bit of balance and coordination. Those with knee issues or lack of rhythm, beware.
The Overall Decision

She says to do both DVDs four to six times a week, equaling darn near two hours a day. REALLY? Who has time for that? Not even me, and I really enjoy working out. My other issue with it is that she constantly says the workout will make you "teeny tiny" and not "bulk up," again preaching the-no-heavier-than-3-pound rule. I am not a teeny-tiny person. I have broad shoulders, a normal-sized fit bottom, and I like it. Not to mention that I don't just work out to look good. I do it for health. I do it to feel good. I do it because it makes me stronger. AND, if I ever need to lift something over three pounds (say groceries, a child or even a package that came in the mail), I want be able to do it.
Now, with that being said, Tracy does have some good moves. If you can get over her checking herself out and not cuing her moves consistently, she gives a few great postural alignment tips, and the music is very pleasant and really fun in the Dance Cardio Workout. And although the DVDs are long and pretty boring in some parts because you do sooo many reps, all of the exercises are varied, and you definitely aren't doing the same exercises that you're used to in traditional workout DVDs.
Basically, Tracy Anderson ticked me off, kicked my ass (I was definitely sore the next day), helped me to embrace my inner dancer, annoyed me and made me jealous all in one DVD. Now that takes talent. Of some kind.
I think one of my friends, whom I forced the DVD upon to get another opinion other than my own, may have put it best when she, rather colorfully, said, "That DVD kicked my arse…and made me feel like a turd."
Her next line? "Thanks, Jenn. I want to beat you right now but my arms are too sore to do the deed."
FBG Rating (Out of 5):
Instruction: ★
Long-Term Likeability: ★★
Music: ★★★★
Fun Factor: ★★
Meets Expectations: ★★
Overall: ★★1/2
Fit Bottom line: Definitely not for beginning exercisers or those who dislike dancing, these DVDs are unique and get you to feel the burn, but with no scientific backing, little instruction and too many eye-rolling moments, they just can't get the full FBG stamp of approval. —Jenn