Web Workouts, Trainer Tips, and Fido's Fitness
Online exercise, advice from the pros, and fitness for fuzzy friends.
Work It, Gi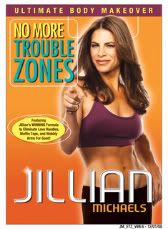 rl
Jenn confirmed that Jillian Michael's 30 Day Shred was a tough workout, and as of today, you can try her new workouts, No More Trouble Zones and Banish Fat Boost Metabolism for free on ExerciseTV On Demand. No More Trouble Zones is 40 minutes of circuit training that gets progressively harder. Banish Fat Boost Metabolism will help you get your heart rate up with 10 four-minute cardio exercises. I'll definitely be taking advantage of this on my laptop while on an upcoming business trip. And although we make it known how much we heart Bob, Jillian is also the bomb.
The Pros Know
We all know we should work out, but sometimes it's getting the motivation to actually strap on those shoes that's the hardest part. The American Council on Exercise recently shared motivational tips from personal trainers and group exercise instructors—people who exercise for a living. These tips are great for helping you get the most of your workouts and spice up your routine to prevent boredom or burnout. I love the two-day rule: Unless you're sick, never go more than two days without working out because it's so easy to let two days turn into two weeks. Click the link; it's well worth reading.
Dog Days

While the Wii Fit may be a great fitness tool, it can easily be turned off and put aside for another day. Dogs, however, are a different story. Dogs, especially puppies, can't be turned off. A dog is that faithful workout buddy who will never turn you down for a stroll in the park or a game of fetch. Agility classes, canine freestyling and now even doggie boot camp classes are great ways for dogs and owners to get off the couch and into a healthier, more active lifestyle. Be sure to check out the article below for tips on working dogs into your fitness routine, as well as the signs that show that your pup needs a rest. (And the TV test that shows your dog needs more exercise. It's been raining, so mine has definitely been blocking the TV!)
Who let the dogs out?
—Erin
Pup photo grabbed from andreaplanet at Flickr.