Jari Love: Get Ripped 1000 & a Giveaway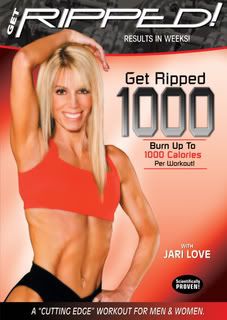 Before we get this review started, I need to get a few things cleared up, as the name Jari Love: Get Ripped 1000 may be a bit misleading. First, I have a hard time believing her real name is Jari Love (if it is, please correct me, Jari, and I'll bow down in your Canadian awesomeness). Second, although the DVD will get you sweating, I'm pretty sure an average women couldn't burn 1,000 calories in this workout as Ms. Love promises. Maybe an NFL linebacker could, but I don't know many of those who would be interested in Jari Love's DVDs, unless they got the "Love" confused with a different kind of DVD.
With that being said, I enjoyed this DVD. It was a solid hour of cardio and strength. The DVD doesn't have any gimmicks (besides the 1,000-cal promise) and is very much like a group exercise class in your living room. The DVD consists of a 5-minute warm-up and cool down, nine 2-minute cardio blasts and nine 3-minute strength sections (including abs). The cardio moves—including jacks, knee ups and football runs—are done best with a step but can be modified without a step. Many of the strength moves are combo moves like a squat plus a press or a side squat with bicep curls, so you're really getting maximum burn. During the hour-long workout, you alternate between the combo strength moves and the cardio bursts.
The best part of the DVD, though, is its menu. I know this sounds lame, but it's seriously one of the coolest and most convenient menus I've seen. The warm-up, cardio moves, strength moves and the cool down all have their own start, meaning that you can truly customize your sweat session. I found this particularly helpful on days when I didn't have a full 60 minutes to work out (more often than not). Plus, all of the cardio moves have a lower-impact version that you can follow, making these sections very beginner friendly.
I can't say that the strength sections are beginner friendly, though. Jari throws around some major fitness lingo, saying things like "leg abduction" instead of "side leg lifts until you scream." She also doesn't give a lot of alignment tips, and some of the advanced moves (like deadlifts with reverse flys, and clean and presses) definitely need them. A few times, Jari says some odd things like "Did you do it without falling? Extra stars if you did." But, maybe it's a Canadian thing? (We love our Canadian readers after all!)
The other surprising high point of the DVD is on the "Bonus" section, which includes a whole Q&A on the science of metabolism. I was really impressed by the easy-to-understand explanation of resting metabolic rate. There's also a "Motivational Tips" section, which has good info, but is set in a bizarre, awkward conversation setting of three people having tea and discussing weight loss. Again, maybe it's a Canadian thing.
FBG Rating (Out of 5):
Instruction: ★★★
Long-Term Likeability: ★★★★
Music: ★★
Fun Factor: ★★
Meets Expectations: ★★★★
Overall: ★★★1/2
Fit Bottom Line: Although you probably have to be a 250+ pound man to burn the 1,000 calories promised during this hour-long workout, it's still solid for intermediate to advanced exercisers looking for a combo strength and cardio workout.
Interested in trying it? Comment below with why you'd like to win, or pick it up for peanuts on Amazon! —Jenn
For more DVD reviews, check out my review of the Tracy Anderson Method DVDs and Erin's opinion of the American Gladiators' Ultimate Workout.