Sweet Treats and Giveaway!
Today, for your noshing pleasure, we bring you reviews of not one or two products, but THREE tasty delights. Read on to get your sweet yet healthy fix.
LightFull Satiety Smoothies

These puppies sure do have good nutritionals. With 90 calories, 5 grams of protein, 5 grams of fiber (I heart fiber!) and 20 percent of your daily requirement of calcium, it's one heck of a snack. Each little bottle also includes 20 grams of erythritol, a sweetener that occurs naturally in pears and, according to the manufacturer, has minimal impact on blood sugar. The smoothies are definitely tastiest refrigerated and are supposed to keep hunger at bay. With just 90 cals, they didn't keep my hunger away for more than two hours, but they were more filling than a Diet Coke or cup of juice.
My fave flavors were Chocolate, Cafe Latte (similar to a diet Frappucino) and Mango Oasis. My least faves were Peach and Strawberry because they just seemed so sweet. Overall, they all have something distinct about them, which I'm guessing is the pear sweetener, but I'm no food science expert. I probably wouldn't drink these regularly, but they're good when you need a quick snack in the cube farm.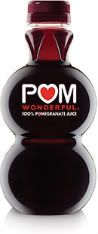 POM Wonderful
Well, congrats, POM Wonderful. Your scheme to take over the world worked. At least, you took over my husband's heart. After I got a sample pack of the pomegranate juice, my husband slurped it down…and has since started buying POM Wonderful himself. Well done. The juice is mighty tasty, and don't be discouraged with the first sip. It can taste a little strong, but keep sipping and your tastebuds will thank you. You'll be sold on this antioxidant superpower that boasts a range of health benefits from improved cardiovascular and prostate health to less of a need for Viagra. Drink the stuff straight from its adorable little package, or use it to make an adult beverage. This martini recipe made in the FBG kitchensis fully FBG approved. Jenn says they were "almost too tasty" and very festive for winter. Plus, you can say you're drinking a cocktail with health benefits.
Vitatops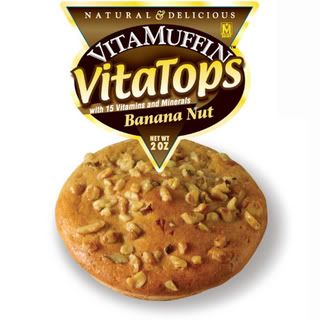 Do you know the muffin man? I do and his name is Vitalicious (which I always sing like "Fergalicious," for the record). Vitalicious has been banging out tasty, decadent-tasting good-for-you treats for awhile now, and they just keep coming up with new flavors. They amaze me. Their recent addition is Banana Nut VitaTops. They sent both Erin and me a box of these bad boys, and we've definitely been enjoying them. Heck, even my husband has snagged a few on rushed mornings and reported back to me, guiltily, with their tastiness. Although I still give their Deep Chocolate VitaTop the edge in the flavor department, that may have more to do with my love of chocolate than a taste comparison.
Want to try VitaTops yourself? Vitalicious is giving a whole SuperSampler Pack (including Banana Nut) to one lucky FBG reader who signs up for their newsletter. G'luck! —Jenn & Erin

For more food-related posts that you can sink your teeth into, read our review of the
Smart Ones Morning Express breakfast entrées
and
these low-fat jalapeño poppers
.