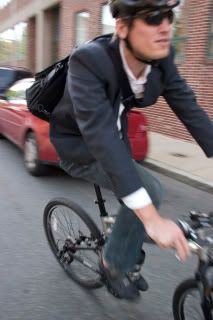 Not a day goes by that I don't hear about global warming, environmental awareness or the green version of some product or another. I guess all of the media attention (FBGs are guilty of this, obviously) is working, though, because I recycle more, drive less and generally think of the impact my purchases have beyond their impact on my wallet. Even though gas prices have decreased and leveled off as of late, I think the recent$4-per-gallon gas was a bitter pill to swallow, and it's definitely got people trying to curtail their use of gas. So in honor of Earth Day today, we've put together a round-up of some products that'll get your energy consumption down and your energy output up!
SwissBike
If you're putting aside the car keys and hopping on a bike instead, we've got a sweet, green product for you. The Swiss Bike TX (left) is a full-size bike that folds to fit into the trunk of your car. The 26-inch wheels provide the stability a commuter needs, and the company says it can go on any terrain. Being able to store the bike in your car allows you to drive, park and ride the rest of the way in. Perfect when you hit a massive traffic jam miles from the office.
RealRyder

Now, if you want to work up to a more rigorous commute, the RealRyder ABF8 seems like an awesome way to train. This bike gives more of a real riding experience than a stationary bike, letting you tilt, turn and bank more like a real bike. You can lean up to 45 degrees left and right, which gives you what the makers call a 5-in-1 workout. You not only work your legs and cardio, but you alsowork your upper body, core and balance. Awesome!
And because it is Earth Day, here's a recap of some cool green products we've mentioned in the past!
Lace up your sneakers and check out how your neighborhood ranks on walkability.
Stop drinking those bottles of water and get Tappening.
This microgym lets you supply the power.
Nike embraces sustainability in its products.
A human-powered health club on a boat? We were curious, too.
—Erin
Want a bonus read on health and sustainability? Check out Fighting Globesity.