Emotional Eating, Park Workouts, and Simplicity Sells
Combat emotional eating, Self heads outside, and food gets simplified.
Overeating Awareness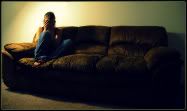 Do you reach for sweets when you're stressed? You're not alone, and it turns out the month of April is dedicated to Emotional Overeating Awareness (there really is a day or month for everything). If you eat when you're sad, mad, glad, bored or stressed, finding non-food methods to cope can save your waistline in a big way. Check out the daily tips and videos on the site for coping strategies to prevent your next breakdown binge. While I'm not so sure about the "flower remedies," tips such as "There are no mistakes, only lessons" will help you keep positive when you slip up.
Hungry in the head.
Fitness Festival

Bored with your Saturday workouts? Self magazine will spice it up for you with its annual Workout in the Park outdoor health and fitness festival this spring in select cities. Watch for the big workouts in NYC on May 9 and in Chicago on May 16. Head out for tons of Crunch Fitness workouts, product samples, prizes and a one-year subscription to the magazine—all for just $15. Plus, the money raised goes to some great charities, such as Susan G. Komen For the Cure and Fertile Hope.
Less Is More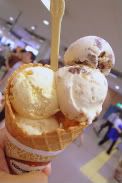 Everyone knows the rules: more whole foods, fruits, veggies, whole grains, yada yada yada. But sometimes you need to go down those middle aisles at the grocery store. Sometimes you must have those chips and ice cream. Good thing some companies are trading mile-long ingredients lists for simpler contents. Haagen-Dazs now boasts five-ingredient ice cream; Tostitos emphasizes its three-ingredient recipe. But don't forget: Just because a food doesn't include unpronounceable ingredients doesn't make it healthy! Still aim for as many fruits and veggies as you can.
Simple is better.
Bonus Bit: Bay to Breakers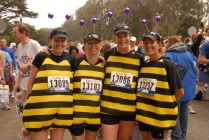 Up for a 12K in sunny California? Try San Francisco's 98th annual Bay to Breakers race on May 17. The zany race boasts both serious athletes and casual runners alike, crazy costumes and according to Wikipedia, "varying degrees of nudity" from some of the over-excited participants. If you're interested in participating in this San Francisco treat, FBG readers can get a discount! Here's how:
Visit www.ingbaytobreakers.com for details about the race
Register online by midnight on April 30, 2009, to receive the early registration price with an additional 5 percent discount at http://tinyurl.com/cy3vkw
Enter this coupon code 5FBG09 (case sensitive) and click 'redeem' before completing your registration
This offer is limited to the first 100 registrants, so make sure to register as soon as possible! (Offer is limited to online only and is valid only for registration fee. Direct questions to info (at) baytobreakers (dot) com)
—Erin
Need news? See if your favorite workout makes the trendy list and how astronauts stay fit in space.

Photos grabbed from Evil Erin, Matt Ryall, and yoppy on Flickr.