Sharing the Tamilee Webb DVD Love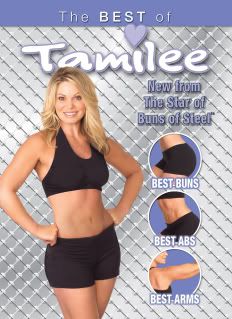 In case you missed it last week, I'm officially in love with Tamilee Webb's Best of workout DVDs. They rock. And I'm about to share the love with two readers.
Drum roll, please…
The winner of The Best of Tamilee: Buns, Abs & Arms Workout is Vicki Kechekian. And, the winner of The Best of Tamilee: Thighs, Abs & Cardio DVD is britneysmurf83 (love the name, by the way). Girls, to claim your winnings, e-mail us your mailing address at contact@fitbottomedgirls.com, and we'll get them in the mail soon!
For those of you who weren't so lucky today, stay tuned for loads more giveaways (especially in mid-May when FBG turns one year old!) or buy these highly recommended titles on Amazon. Tamilee won't disappoint; I promise. To get an immediate Tamilee fix, read our interview with her! —Jenn