The Best of Tamilee: Buns, Abs & Arms Workout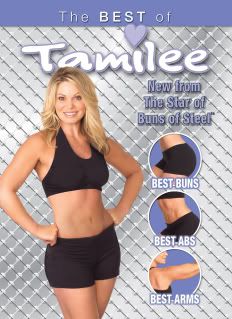 Yesterday, we were lucky enough to interview the one and only Tamilee Webb. In the Q&A, Tamilee seems much like she was 10 years ago in those first Buns of Steel DVDs—well spoken, smart, in hella good shape and giving sound advice. And I'm happy to report that the Ms. Webb that you get in her latest DVD, The Best of Tamilee: Buns, Abs & Arms Workout, is just like the one you get in the interview. She's full of great tips, cues fantastically and is charming as heck. The only thing that's really changed is her outfit, as she's traded in her Buns of Steel-baring leotards for more low-key outfits. (And for the record, I feel totally comfortable playing this one in my home when company comes over.)
The DVD features three 15-minute segments of moves that are, as the name implies, the best of Abs, Buns and Arms of Steel (which is totally genius, by the way). And every section is spot-on with exercises that are challenging, functional (you get to work on your balance a lot), fun and surprisingly unique, as they're not moves that you've seen much outside of the Steel series. You get a quick, to-the-point warm-up and cool down, both lasting 3 minutes each. The DVD features a customizable menu (this should be standard on all DVDs methinks), and all you need is a mat, some weights and a step if you have it. If not, you can totally modify the moves on the good ol' floor.
In Buns, Tamilee challenges you with one-legged squats w/a knee up, squats with pulses and lunges with a back leg lift. In Abs, she hits ya with pelvic tilts (always giggle worthy but totally effective), slow bicycles and reverse curls with a side crunch. Believe me; you feel it. In Arms, she busts out more combo moves with lateral raises plus hip extensions, triceps plus calf raises and upright rows with a plié. It's good. It's solid. I don't think I would change a thing, except the music in Buns and Abs, which was pretty forgettable. (Note to producers: Pump up the fun, like you did in the Arms section that featured some Bollywood type stuff. So fun!)
My absolute fave part of the DVD though isn't the moves. It's Tamilee. She's so natural in front of the camera, she gives great tips on proper form without being overly scientific, and she keeps it real. In fact, she actually tells the truth, disclosing that her ab moves may not give you a six-pack. OMG. For that, she says you have to have the right genetics and be darn lean with a healthy diet and cardio. I may have developed a fitness crush on her at that moment. The infatuation continued when she sympathized with me that it's hard to focus on the internal benefits of exercise because no one comes up to you and says, "Hey, nice liver." Finally, she sealed the deal when she told me to focus on what I like about myself and not beat myself up for what I don't. Spoken like a true Fit Bottomed Girl.
FBG Rating (Out of 5):
Instruction: ★★★★★
Long-Term Likeability: ★★★★
Music: ★★★
Fun Factor: ★★★★
Meets Expectations: ★★★★★
Overall: ★★★★1/2
Fit Bottom line: Hands down, one of the best DVDs we've reviewed this year. Whether or not you're a fan of the original Buns of Steel series, I promise you'll be a fan of this one. —Jenn
Want to try this DVD? We have a copy to give away, plus a copy of her other Best of Tamilee WebbDVD featuring thighs, abs and cardio. Two chances to win! Hooray! To enter, all you have to do is live in the U.S., and comment below or e-mail us at contact@fitbottomedgirls.com by Monday, April 20th. Easy, right?
Want to check out more workout DVD by fitness veterans? check out
Denise Austin's Body Burn
and
Kathy Smith's Total Body Lift
.