How People Drink Coffee Across the Country
Do you know what day it is? It's National Coffee Day! And it won't surprise anybody here to know that we are HERE for it.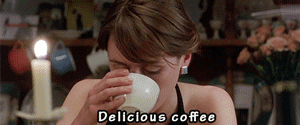 Considering how prevalent coffee is as a morning beverage, it's fascinating to think about all the different ways we drink it — it goes way beyond just drinking your joe black vs. with cream and sugar.
Think about it. Do you make it at home or pick up a cuppa at your local coffee shop? Prefer it hot or cold? French press? Cold brew? Are you an espresso drinker? Prefer flavored coffees? Only sip on specialty drinks with foam? Do you grind your own beans? Decaf, half-caf or fully leaded?
Seriously, there are loads of options out there (and plenty of reasons for everyone from athletes to couch potatoes to fill a mug). But, it turns out that some of these preferences assert [?] themselves regionally, and Krupps recently put together a fun infographic in honor of National Coffee Day to show how people like to drink their coffee in different parts of the United States.


How do you drink your coffee? If you're looking for a few fun ways to up your coffee game, or need help brewing the perfect cup, we can help. —Kristen