Mental Roadblocks, Jillian Michaels Wii Game and Baby Bellies
Get over health barriers,  Wii game with Jillian Michaels, and know what to gain when you're expecting.
Excuses, Excuses
A survey from LiveStrong.com says that 86 percent of Americans attempt to make healthy lifestyle changes, but less than half are successful. The surveyed indicated the top three roadblocks to change were lack of motivation, lack of money and lack of time. Sound familiar? Healthy changes don't just happen, but getting over those mental roadblocks is key. If you want to make a healthy change, take baby steps. Get off the couch and go for a walk,or do a few push-ups during commercials. No gym required! Check out the new website below for more get-fit support.
Biggest Wii-ner
Fitness trainer Jillian Michaels of "The Biggest Loser" takes her tough-love training approach to the Wii. Her workout "game" even sounds tough: Jillian Michael's Fitness Ultimatum 2009 (say it using your best impression of a suspense movie trailer voice-over, and you'll see what I mean).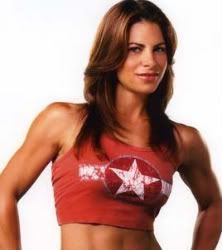 Players enroll in Jillian's bootcamp and take on challenging fitness tests and workouts. Wii-ers choose from weight loss, strength training, intervals and hill climb, set a degree of intensity and duration of 10 to 60 minutes, and get burning. Not sure how the monkey bar climbing works via a Wii, but I'm not opposed to finding out. The program also lets you track progress and compete against others on certain activities. The game is planned for release this holiday season. I'll be starting my Christmas list right
now
.
Baby Fit
As the health benefits of working out keep on piling up, now there's even more reason to stay active to keep the pounds from piling on—and it's not just about you. A recent study showed that children of mothers who gain more than the recommended amount of weight during pregnancy are more likely to be overweight at age seven. Children whose mothers who are obese prior to pregnancy and gain excessive weight are at the greatest risk for being overweight. So while women at healthy pre-pregnancy weights are encouraged to gain 25 to 35 pounds, staying active and eating right can help keep you at appropriate pregnancy weight. Fit bottomed girls lead to fit bottomed babies! And seriously, what's cuter than a fit bottomed baby?

Baby booming.
—Erin
Photo grabbed from http://www.photobucket.com.