Fixes for Post-Workout Hair
It's not always convenient or possible to shower after a workout. This can leave you a big, sweaty mess, and embarrassed to stop off at the grocery store where you'll inevitably run into a former flame or high school nemesis. You only meet those people when you're in need of a shower. Here are a few hair care products we have tried.
To combat this beauty battle, I've been using Jonathan Product Redo Freshen-Up Mist (of my own free will, no product placement for the Fit Bottomed Girls). It works for hair and skin, and you simply spray it on your hair to freshen up. The cucumber/rose essential water refreshes, natural botanical extracts cleanse, refresh and moisturize, and vegetable enzyme neutralizes odors. It's basically Febreze for your head. It's technically fragrance free, but it smells light and refreshing to my discerning nose. I love using it on my skin to feel so fresh and so clean clean. And while it won't take away the need to wash your hair after a tough workout, it will buy you some time and will leave you less disgusting than you were before. That should be an ad slogan. $18 for 5.1 oz or $8 for 1.7 oz.
Another one I'd like to try on a rainy day would be the Oscar Blandi Pronto Dry Shampoo Spray. It's supposed to absorb excess oil and buildup, which sounds ideal for post-workout grossness. $21 for 3.2 oz. or $11 for 1.4 oz.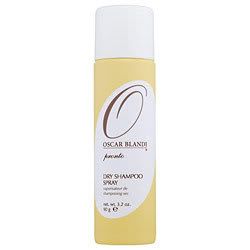 Bumble and Bumble offers a hair powder that sounds intriguing for "styling ease, dry cleansing and tinting." Depending on how you use it, you can use it for tinting your hair or just for absorbing the oil. Interesting. $19 for 1 oz.
Cake Beauty also hasa yummy-looking refreshing powder for hair and body. It's said to smell like lemon cookies. Mmmm! $18 for 1.7 oz.
Note: These hair care products are a bit pricey, so if you know of drugstore products that do trick, we'd love to hear about them! —Erin
Photos grabbed from http://www.amazon.com/.