A Sweet Escape: Part Deux
A few weeks ago, the Fit Bottomed Girls gave you a workout for work, a sweet escape if you will. However, as a cube farm worker myself, I understand that sometimes you just need a few desk exercises that you can do, sans stairwell. Plus, I know there are people out there who work in a one-story building with no available meeting rooms. (Side note: I also wonder where these people go to secretly gossip about co-workers' affairs and rant about the newly promoted manager who thinks she's "all that." If you're one of these people, please enlighten me.)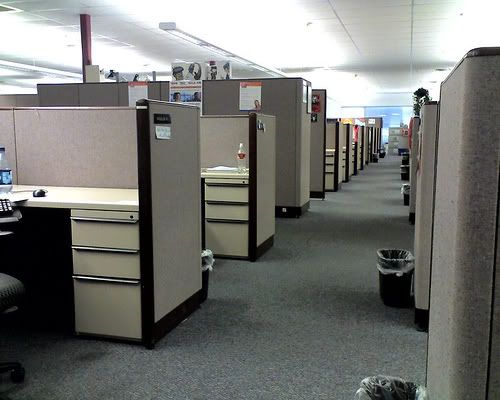 The FBGs are here to help, my friends, with a simple five-step workout. (Maybe I liked the 5-Factor Diet more than I thought.) Try to do all five moves at some point during the day—research shows that even the smallest moves can add up to big results!
A Workout Fit for a Desk
1. Bust out the resistance bands. The most obvious way to work out from your desk is to use resistance tubing. Do a few bicep curls, some tricep kickbacks and overhead raises, and feel the burning love.
2. The faux sit. With proper form (knees behind your toes, head and chest lifted, abs in), squat only a few inches above your chair. Beginners hold for 20 seconds, intermediates go for 30-45 seconds and you advanced crazies go for a minute-plus. The awesome thing about this one is that, if you're getting low enough, your boss won't even notice that you're working out as he/she walks by.
3. Chair lifts aren't just for your grandparents. Now, before doing this, make sure your chair doesn't have wheels and can't move around, or lock your chair so that it's non-movable. Falling off your chair is one way to get noticed at work, but probably not the kind of attention that you're looking for. To target your shoulders and chest, sit in your chair with both hands on the chair's arms. Then slowly lift your fit bottom off the chair. Slowly lower back down. Beginners can try it 10 times, intermediates 15-20 and gym rats go for more than 20.
4. Push it on up. After making sure your desk can support your weight, clear off a spot on your desk and place your hands on the desk, walking your feet out behind you. Do push-ups against the desk until you're ready to say "uncle." Beginners can make the exercise easier by standing closer to the desk, and seasoned exercisers should place their feet as far away as their body and space allows. Make sure to keep those abs tight!
5. This is a stretch. Everyone can use a little cool down/cool off time from their day. After doing #1-#4 or just if you feel like you might go postal, close your eyes, take a few deep breaths and start rolling your shoulders forward five times, then back five times. Next, sit tall in your chair and reach for that tiled ceiling. Hold for two breaths, then extend the right hand higher, then the left. Bring your arms back down, then extend them to the side, Titanic "I'm the king of the world" style. Two more deep breaths. Return to reality.
These are just a few of the exercises you can do from your desk. I didn't want to get into Kegels and butt clinching, but let us know what other exercises are your faves at work! —Jenn
Photo grabbed from: http://flickr.com/photos/timpatterson/476098132.