I've never been a big smoothie girl. I figure that if I'm going to consume 250 to 300 calories for breakfast, I'm going to eat it, not drink it. I was pretty adamant about this until a few months ago when Vega was introduced into my life. Yes, the name may remind you of some character off of Star Trek, but trust me that there's nothing Trekkie about it. In fact, I think even Spock would approve.*

You see, Vega's Whole Food Smoothie Infusion kind of changed my life, or at least my mornings. To review the product for FBG, I began making the Vega smoothies every day at 6 a.m.In a slumber, I'd mix OJ, a banana, some frozen fruit (peaches, cherries or strawberries, usually), ice, and two scoops of the Smoothie Infusion as I was usually making a smoothie for myself and my hubby. (He loved this FBG "project" by the way—homemade breakfast every day!) I would also throw in Greek yogurt and silken tofu from time to time, just 'cause.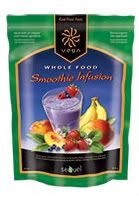 Within days, I was referring to the smoothie as my super fuel. An hour or two after drinking it, I felt fantastic. I never got hungry until lunch, I didn't have major cravings, and I just felt strong. My husband started calling it our crack breakfast. Yes, it was that good.
The smoothie powder is totally vegan and free of just about anything you could be allergic to—dairy, corn, gluten, soy, wheat and yeast. At 120 cals a scoop, you get 14 grams of veggie protein, 6 grams of fiber and a good amount of Omega 3s. Plus, even though it turns your smoothie green (the ingredient list includes wheat grass, alfalfa, spinach, kale and kelp), it tastes good and a little sweet, even though it only lists 1 gram of sugar. Now, I'm usually a huge Kashi Go Lean cereal girl in the a.m., but this kicks the patootey out of eating a bowl of cereal. It's also made me refocus on eating more clean foods, as apparently it can make a huge difference.
I also tried three of Vega's Whole Food Energy bars, but, honestly, I wasn't impressed. Each flavor—berry, natural and chocolate—are chock full of vegany goodness, but they just weren't overly tasty and they didn't fill me up like other bars.
Sadly, our Vega smoothie powder supply ran out a few weeks ago, and I've tried making smoothies with other protein powders, but it's just not the same. Unfortunately, Vega is only available in a limited number of health food stores around the country, and not our area. However, I just found a 16 oz bag of it (which lasted about three months in my household) for $27.50 at Amazon. May the crack breakfasts re-commence! —Jenn
*After some more research on the word Vega, I figured out why it hearkened Star Trek so much for me … Vega is a star. Duh. And no, the FBGs are never paid to review products, so today's post is not sponsored or influenced in any way. It's just how I feel!
For more adventures with the FBGs, check out Jenn's experience running in the rain and Erin's refusal to be a morning person.
Photo grabbed from http://media.photobucket.com/image/spock/starshineRoxie/Spock.jpg?o=35.