Space Strength, Running Reflection, and Holiday Helpings
Working out in orbit, watching your form and the holiday weight gain misperception.
Moon Muscles

When you're strength training, you're usually keenly aware of your muscles. If you're doing it right, they light up and burn in a good way. But when you're strength training, you're also benefiting your bones. Weight bearing exercises—walking and jogging included—help to build bone mass and prevent osteoporosis. But what do you do when there is no gravity to resist your own weight? That's the problem astronauts are trying to solve. Space travelers can lose 1 to 2 percent of their bone mass each month, so they've developed the advanced Resistive Exercise Device (aRED) for the international space station to fight bone loss. The aRED works like a weight machine only with vacuum cylinders for workloads of up to 600 pounds. Astronauts typically work out a couple of hours a day to maintain their body mass—and to bounce back and do simple things like walk and stand when they return to earth. I'm throwing a gravity appreciation day!
Blastoff.
Watch Yourself Run
Once sub-50 degree temperatures hit, I retreat back inside to work out rather than deal with the blustery winter weather. Depending on your gym, your indoor runs on the treadmill may afford you the ability to check yourself out in the mirror during your workout, which can be beneficial. According to the journal Medicine & Science in Sports & Exercise, checking out your mirror image makes you more efficient. Ten participants ran on a treadmill under various conditions: symmetrical and asymmetrical mirror images and one static image. Participants ran more economically when they were coupled with a symmetrical image over the other two. Now you have an excuse to check yourself out in the mirror.
I'm looking at the woman in the mirror.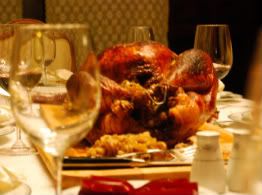 Pound of Prevention
December is the perfect storm for weight gain. It's cold out so you're not getting outside for activity, you're busy so you might take less time out of your day to work out, and there are numerous yummy treats tempting you around every bend (egg nog, anyone?). While you may feel like you pack on the pounds over the holidays, studies show that on average, people only gain about a pound of holiday weight. The problem lies in the likelihood that people don't lose that pound after the holidays are over, which could be one contributor to weight gain in adults over the long term. Once those festivities are over, get that focus back to fitness.Back on track.
—Erin
Need more news? Check out why boot camp is a stellar workout and new government guidelines for physical activity.
Photos grabbed from wharman on flickr, clairity on flickr.