Here at FBG, we usually review workout DVDs. However, there's a new medium of instructor-led exercise out there, and it's growing in popularity. Just like many are watching TV and movies on the Internet or on their iPods, workouts are coming at ya the same way—digitally. While a few exercise DVDs are even available on Netflix's "watch instantly" option, you can order numerous workouts at Exercise TV. All you do is pay, download and watch them from your computer anytime—including when you travel. Big time score this holiday season.
While there are about a million formats to choose from, I picked two workouts: the 45-minute Yoga Fitness Fusion and the intense 25-minute Celebrity Shred. Because I'd never tried this medium of workout before, I wasn't sure what to expect, but I was pleasantly surprised.
Yoga Fitness Fusion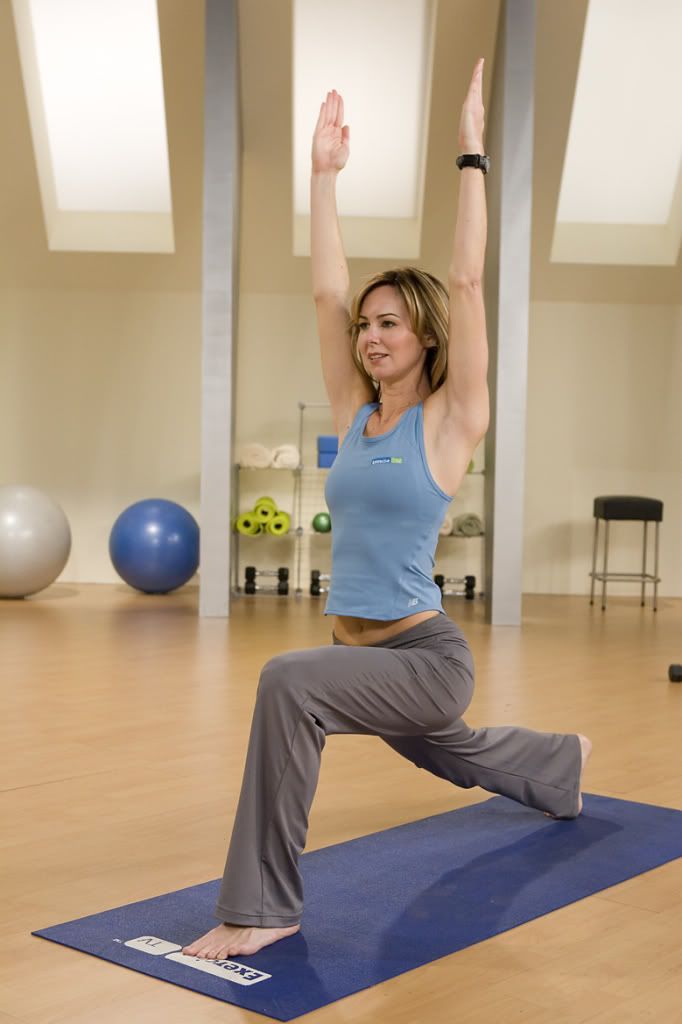 Led by Angie Stewart, this one was unique, fun and fused together yoga poses with traditional fitness moves. Because it was less stretchy and more fitness-y, you got your heart rate up, and Angie's instruction was perfect. As someone who has done a lot of workouts, she really surprised me with some of her moves. For example, she leads you through back lunges with a knee up to sumo squats to a standing stretch up to a side lunge. Another of my favorite sequences was standing in warrior while you pump your arms like you're running. It sounds a bit odd, but it turned a static yoga pose into a fun, calorie-burning move. The workout ends with bridge, leg stretches and the uber-relaxing corpse pose. You just need a mat for this one, and my only complaint is that there weren't enough modifications for those who aren't overly bendy (read: me—check out my poor flexibility rating on the President's Fitness Challenge).
Fun fact:
It also uses the same set, just painted green in some spots.
Celebrity Shred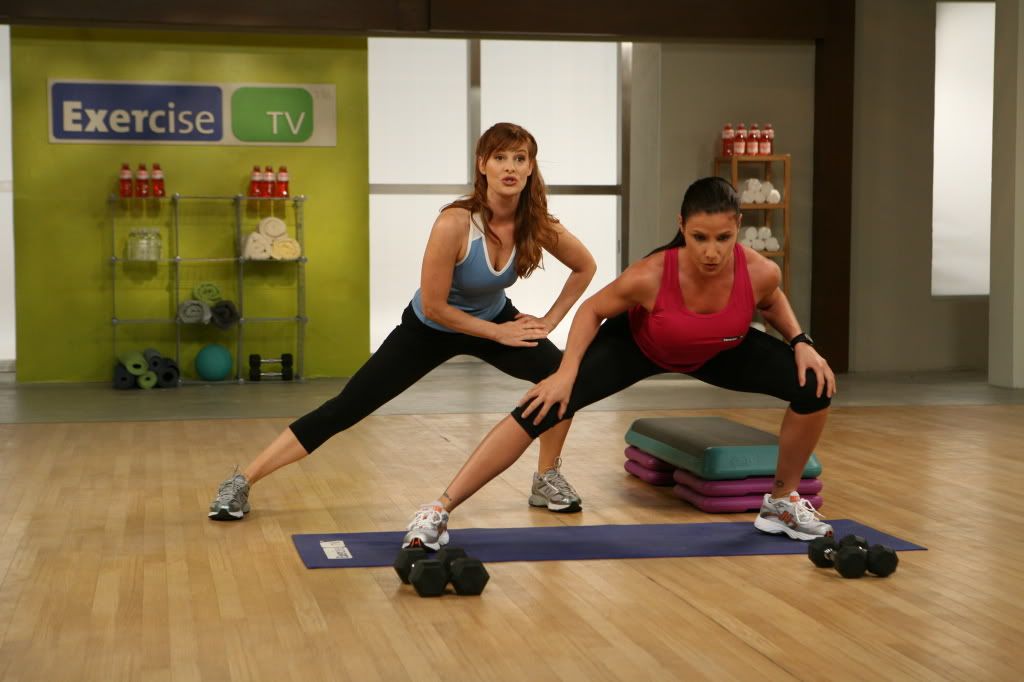 This one lives up to its name. While it is short and clocks in at only 25-minutes, it was intense. It starts innocently enough with a quick warm-up, but quickly progresses to squats plus presses, jumping lunges to plank, lunge kicks to lungesplus rows and pliés to shoulder raises. It gets your heart rate up in a hurry, and both Holly Perkins, who leads the workout, and her sidekick Celine, who does the workout while Holly corrects form and gives tips, are totally normal looking women. I mean, they're obviously fit and have muscles, but they don't look like they're on the cover of
Muscle & Fitness
Hers
. (For the record, Angie looks totally healthy, too.) The shortened workout unfortunately doesn't leave enough time to target your biceps, triceps or really even your chest, but it was great in a 25-minute pinch, and I added on a few of my own exercises at the end for a full-body 35-minute sweat session. All you need for the download is a mat, 5- to 10-pound weights and a step, although you can totally modify the moves if you don't have one. I didn't recognize the set on this one, but the music was a tad slow and boring for the high-intensity moves.
Fun fact:
Holly lists Adrian Grenier (gah-rowl) as one of her celebrity clients, and she is in the process of opening a green gym in LA. Yay for going green!Overall, I'd recommend both of these workouts. They were inexpensive: $6.99 for
Yoga Fitness Fusion
and just $2.99 for
Celebrity Shred
. And, once paid for, you can either watch them streaming online or you can download them and play them anywhere. Both of the workouts didn't require much space (I literally did them in a 5-foot by 5-foot area, between my breakfast table and wall, as that's where our laptop usually parks itself), but sometimes when you'd hit the mat it was tricky to see the screen, depending on your angle. My husband says you can hook your computer up to your TV to avoid this problem, but that kind of defeats its digital purpose in my book.
FBG Rating (Out of 5):
Instruction: ★★★★★
Long-Term Likeability: ★★★★
Music: ★★
Fun Factor: ★★★★
Meets Expectations: ★★★★★
Overall:
★★★1/2
Fit Bottom line:
If you thought DVDs were your best at-home workout option, check out exercise downloads. They're cheap, you can travel with them, and these two are both awesome workouts. It's the wave of the future!And, if you're looking for free downloadable Pilates workouts, check out
www.ultimatepilatesworkouts.com
. They're another great source for your online exercise needs.
—Jenn