Exercise a Cold, Biggest Premiere, and Your Best Life
Work a cold out of your body, The Biggest Loser blastoff, and the best year for you.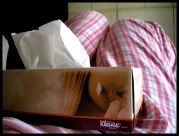 Sneezing, Coughing and Working Out
I've battled this question many a time: I'm sniffly, sneezing, coughy, achy and all of those symptoms that NyQuil claims to help. The question is, do I work out or take a break? While the topic hasn't been studied intensely, a recent New York Timesarticle mentionstwo studies published a decade ago that support working out while you're cold-ridden. One study of exercisers deliberately infected with colds found that having a cold had no effect on lung function or exercise capacity. Another study showed there was no difference in recovery time between the sniffly participants who exercised and those who rested. The FBGs say if you have the energy to exercise, give it a shot. If you don't, take it easy.
Biggest News
In keeping with the theme of The Biggest Loser Week on the Fit Bottomed Girls, we would be remiss not to mention tonight's premiere of Season 7 of the show. This season is another couples version of the show where married couples, best friends, siblings and even cousins come together as teams to lose weight as a team. Tune in tonight at 8 p.m. EST to get inspired! In other BL news, former contestants Amy and Marty Wolff, who met on the show, are making their own BL family and are expecting their first child. And, of course, tune in for our interview with Bob Harper tomorrow!
Best Li
fe
Love her (we do!) or not, Oprah consistently inspires millions of people around the world to live better, be kinder and make a difference. Oprah's Best Life Series started yesterday and will continue through Jan. 12 with new shows, online assessments and webcasts. Her trainer Bob Greene, Dr. Oz and others will make appearances and take viewer questions. Get inspired to get fit, be healthier and have a stellar 2009!
O knows.
—Erin
Want more Fit Bottomed news? Check out the top fitness trends of 2008 and a way to Glisten and stay fit!