The Biggest Loser Boot Camp and Weight Loss Yoga DVDs
By now, you're probably aware that Erin and I have a borderline obsession with The Biggest Loser's Bob Harper (especially after our interview with him yesterday where we confessed our love). Those baby blues, the passion for helping others become healthy, and hours and hours of highly entertaining fitness-related TV programming…it all adds up to yum. Not to mention that Bob has not one but two new DVDs out. As a fan of the earlier The Biggest Loser workout DVDs, we had to review both of the DVDs. That's right, today's a BL two-fer.
The Biggest Loser Workout: Boot Camp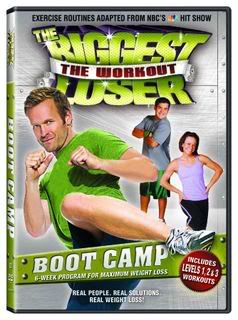 This 55-minute DVD is, as Bob would say, "no joke." As someone who works out regularly, this one sufficiently kicked my arse. It has a customizable menu that allows you to choose your workout and decide between having just the music or Bob and the music (not a hard choice if you ask me). From there you can build your workout to include a warm-up (highly improved from previous BL DVDs, by the way—this one is fun, fluid and kind of challenging) up to three levels of Boot Camp and a cool down, which is fabulous and includes lots of yoga-inspired stretches and moves. (Thumbs up, Bob.)
The different levels of Boot Camp are meant to build upon each other for a total six- to eight-week program, but as an advanced exerciser, I mixed-and-matched workouts to fit my schedule and energy level. But don't let the innocent sounding "Level 1" Boot Camp fool you. It's a tough workout. You do lots of upper-body moves while doing lower-body exercises followed by cardio drills for an uber calorie burn. But, you're not sweatin' alone; Heba, Bill, Bernie and the lovely Ali Vincent are there grunting with you, especially as you perform a crapton of walking push-ups/planks and later biceps with squats. Bob has outdone himself.
Level 2 isn't as hard cardiovascularly as Level 1, but the strength moves are more advanced and challenging. Some of my "Oh, my God, I love/hate you, Bob" moments include V-sit abs, side planks and tricep push-downs. For Level 2, The Biggest Loser contestants use a medicine ball, but you can use a dumbbell instead. Level 3 has you use resistance bands and, despite what you'd think from the name "Level 3" isn't really that hard. But maybe it's just time for me to replace my medium resistance bands with hard. And if you don't have a resistance band, no worries, as you can, again, sub a dumbbell. The music on this DVD is a little lackluster and repetitive. It sounds like the music on the show, which is okay occasionally, but after 30 minutes of it continuously going while you're shaking in plank, you almost wish there was a music-off option.
The Biggest Loser Workout: Weight Loss Yoga

This is the first time The Biggest Loser has done a yoga DVD, and I'm totally smitten. Bob takes the common perception that yoga isn't a workout and bends it, twists it and makes it cry uncle through planks, rotating side planks and one long-standing chair pose that burns, baby, burns. And that's just Level 1. Level 2 focuses heavily on the core and balance with alternating-arm/leg raises and planks with knee raises. See a theme here? P-L-A-N-K-S.
Level 3 is the best level on the DVD, maybe even both DVDs. For this section you incorporate dumbbells (I used five pounders and got sufficient burn because you do quite a few reps) into your yoga poses. Granted,some moves, like lunges with a military press are pretty transparently "fitness," but Bob does a nice job of selling it as yoga by transitioning into Warrior II with a bicep curl. The best part of this section is its relaxing and natural flow, despite it being very challenging in parts.
Like Boot Camp, this DVD comes with a lovely warm-up and cool down that seriously made me a better person. My husband even agreed, as before my workout the laundry seemed like cause for separation while after it was no big deal. The music on this one is much, much better than on Boot Camp. In fact, I'm pretty sure that I own the music featured in the Weight Loss Yoga cool down and have actually used it while teaching group exercise classes, which may explain why I enjoy it so much.
Overall, the DVDs rocked my face off. Both of the workouts are challenging, fun and showcase plenty of Bob. They also complement each other quite nicely. The Boot Camp kicked my butt as any good boot campshould, and the Weight Loss Yoga was tough, but still left me feeling longer, leaner, yet still sweaty. I do kind of wish that each DVD's Level 1 was a bit easier and Levels 2 and 3 progressed in difficulty (sort of like this other Biggest Loser-related DVD), but I understand the plan to get people from regular 30-minute workouts to 60-minutes.
FBG Rating (Out of 5):
Instruction: ★★★★★
Long-Term Likeability: ★★★★★
Music: ★★★★
Fun Factor: ★★★★★
Meets Expectations: ★★★★★
Overall: ★★★★1/2
Fit Bottom line: Both The Biggest LoserBoot Camp and Weight Loss Yoga make an excellent addition to both a beginner's and advanced exerciser's exercise library. You get a good strength and cardio workout with real people, plus some eye candy. 'Nuff said. —Jenn