Portions Jump, Swim Long and the Pizza Police
Calorie counts skyrocket, swimming cuts risk of death and pizza guru discusses pie intake.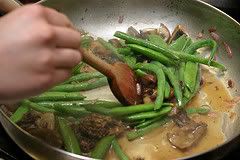 Portion Control
We all know that restaurant calorie counts and portion sizes have ballooned over the years. But even home-cooked meals are packing higher calorie counts than ever before. Recipes from the latest copy of The Joy of Cooking, first published in 1937, have blown up 63 percent. Eeep! Larger serving dishes certainly contribute to excess consumption, so click the link for tricks to keep portions manageable.
Portion potion.
Sweet Swimming
While we've discovered that regular running slows the effects of aging, a new study says that swimming cuts men's risk of dying in half. Not only did the study find that regular swimmers had a higher cardiorespiratory fitness than walkers and sedentary people, but the study found that swimmers had the lowest death rate of the thousands of study participants who were enrolled in the 32-year study. So, if you hate running but know how to swim, you've just found your fountain of youth.
Hop in the pool.
Pizza Papa

The founder of Papa John's pizza recently stated something we've all known: "You can't eat five or six slices." For someone trying to sell pizza, the advice might seem a little counterproductive, but I give him props for his honesty. In a BBC interview, Papa John himself said that the problem with pizza is if you eat too much of it, but if you limit yourself to one or two slices, it can be nutritious. We knew this of course, but it's funny to hear the Papa himself admit it. So grab a slice or two, but add a side salad or some veggies to munch on to round out your meal. The Papa said so.
Deep dish diet.
News hungry? Check out the best diets around and a study on whether to exercise when you're under the weather.
Photo grabbed from ReneS and faeryboots at Flickr.