Have you been down the nutritional bar aisle at your grocery store aisle lately? It's insane. There are literally hundreds of options. Whole Foods has an entire aisle dedicated to them, and even Target has enough to make your eyes cross. New brands are popping up every day it seems, and you can buy a bar to fit just about any  craving from salty and sweet to dark chocolaty to fruity crumble. High fiber, high protein, enhanced with vitamins and minerals, organic, gluten-free…the options are mind boggling.
So why am I telling you something that you probably already know? Well because I've recently been gnawing on four bars that I think stand out from the pack. All have less than 250 calories and have some sort of staying-in-the-tummy power, which is essential for a good snack!
"Full" of It

Ever wish you could have a little something before dinner that would keep you from eating too much at meal time and be a convenient little something. Dinner salads and cups of soup are awesome, but not totally portable. Luckily, the smart folks at FullBar got my back.
About 30 minutes before your meal, you're supposed to drink a large glass of water and eat a FullBar. According to the manufacturer, the bars expand in your stomach and help control your hunger at meal time. I tried the Cocoa Chip and Carmel Apple Crisp flavors, and both were tasty—not overly sweet like some bars are—and all flavors clocked in at less than 200 cals. Now, I can't completely say that they bars made me eat much less than normal, but they were definitely good in that they helped me make dinner without tasting more than was absolutely necessary (a bad habit of mine). And if bars aren't your thing, the company also makes these cool water add-ins that are supposed to curb hunger, too.
Get Customized

I can get picky with my bars. For example, I may like the taste of one bar but don't like that it is sans protein. Or, I like the fiber content of another bar, but it's just too sweet. And then I go off in a daydream of creating the perfect bar, only to be shaken awake by my husband who wonders why I'm standing in the kitchen, staring at my lunch bag with a look of dazed glee on my face. Thankfully, my daydreams are now a reality. With YouBars, you can design and name your perfect bar. You can choose just about any flavor combo and nutrient and then name it after yourself, a loved one or something really creative like "Great Date with Chocolate" (one of the YouBars pictured above that I received as a tasty sample from the company). I'll warn ya, the bars are pricey at $2.99 a bar, but they make an awesome gift for someone else, or yourself. Plus, they taste really freakin' good.
Not Just for Hiking

As an avid hiker, I've been a fan of Clif Bars for years. These bars, while a little higher on the calorie side (in the 220-260 range), are super tasty and fill you up for at least a few hours, helping me avoid crankiness when I have to work late and the only food option is behind vending-machine glass. In a pinch, when I can't squeeze in a full lunch, I'll even eat a Clif Bar with a piece of fruit to help me get by. Just about every flavor is good, but lately I've been obsessed with the chocolate chip and oatmeal raisin varieties. They taste just like a cookie but with protein and fiber!
And, for those who are looking for Clif Bar tastiness in a smaller and less caloric format, check out these
Clif Minis
. Could they be any cuter?!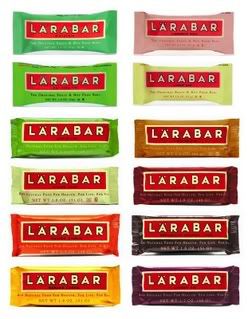 Larabars
have taken the blogging and nutrition world by storm. They are, hands down, probably the
best-tasting
bars I've ever had because they taste almost exactly like what they say they do. Cherry Pie is ah-mazing, as are
peanut butter cookie and chocolate-coconut chew. I wish they had a little bit more protein (most contain about 5 grams), but for organic tastiness with only 200 to 220 calories per bar, I'll live with it. In fact, if
they weren't so darn expensive
, I might live off of them.
Now these have been my faves of late, but I know there are TONS more options. Tell us your faves in the comments! —Jenn