Crunch Cinema, Body 101 and Junk Drinks
Submit a fitness film for big money, check out the body's basic functions, and beware the dangers of lame liquids.
Crunch Contest
If you're reading this, you're probably into fitness at some level. But do you also happen to be a film buff who expresses your creativity cinematically? If so, here is your chance to win $10,000. The Crunch health club chain is accepting submissions through Aug. 31 for its first film contest, Gym Shorts. Entries should be based on the company's mantra of "No Judgments" and should be 30 seconds to 3 minutes long. It's your chance to make movie history while incorporating the club's fitness philosophy. So get shooting! After all, I know I'm not the only one who could use 10K.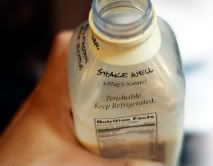 Anatomy Class
Sure, we all know about the equation of calories in and calories out when it comes to weight loss. But we don't often think about the specifics of
how what we consume gets used by the body during exercise. A cool graphic by
The Washington Post
breaks down precisely how what you put into your bod
—
such as carbohydrates, proteins, fats and water
—
is used to power you through your workouts. It also details how the input turns into output
—namely,
power, heat, sweat and waste. It might make you think twice before you grab a sugary snack!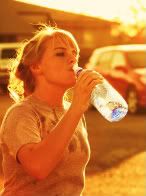 H20 High Five
Everyone knows you are what you eat. Now it appears you are what you drink, too. Major new studies now indicate that what you drink may be as important as what you eat when it comes to problems such as obesity, diabetes, heart disease and other health problems. Some experts are even saying that "junk drinks"—sweetened beverages such as sodas, sugary waters and sports drinks—may pose even more serious problems in terms of obesity and related health problems than junk foods. It's clear: Whether solid or liquid, what you put in your mouth matters. Maybe the new saying should be "You are what you ingest."
—Erin
Second and third photos grabbed from CarbonNYC and D Sharon Pruitt at Flickr.