I Got My Fruit On…And Then Some (Plus a Giveaway!)
About a week ago, I embarked on an adventure to Chicago to meet some fellow bloggers and learn a thing or two about OJ from the OJ master itself, Tropicana. (For full disclosure, Tropicana paid for the whole dang trip—airfare, swanky hotel, dinners, cab rides. They bribed us well.) During my trip I learned some cool facts, sorta started a tiff with their dietitian and got hipped to some cool blogs. Overall, it was a success, and goshdarnit Chicago is a fun town with good food. Lots of good food. But more on that later. Let's focus on my seven take-home lessons from the trip.
Stuff Learned in Chicago
(While Trying Not to Be Biased by Tropicana's Generosity)
1. Juice with pulp doesn't have more fiber than non-pulp juice.
This one really ruined Christmas for me. I'd always, erroneously, thought that my pulpilicious OJ was healthier and had more fiber than the watery non-pulp stuff, but I was wrong. The good news here is that for
those of you
who were forcing yourselves to drink the pulp-kind but didn't like it, you can now drink the pulp-less without any fiber guilt.
2. Eight ounces of OJ equals two servings of fruit. That means that if I use a full cup in my morning smoothie (I will sometimes pair it with a banana and some vanilla protein powder for a delicious creamsicle flava), I've already got two of my five fruit and veggie servings down. Sah-weet.
3. There are sooo many good blogs out there. I met these great bloggers (and many of them are more than just fitness!):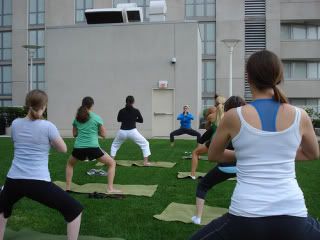 4.

Exhale: Core Fusion Body Sculpt

isn't any easier in person.

Awhile ago, Erin reviewed this DVD, and on the Saturday of my trip, the Trop people set us up with a live class of it. And lordy, lordy, lordy. It was tough. If you have a chance to attend a live class, go for it. You won't be able to laugh or sneeze without pain for days. It's awesome.
5. I'm not sold on all of it. The new "juice beverage" Trop 50 has half the calories and sugar of regular OJ, but I'm not ready to endorse it yet. They take normal juice, add water to it and then add back in vitamins and a derivative of stevia to sweeten the drink and to bring it back to its OJ-ness. I have to admit that I wasn't crazy about its taste. I might use it in a smoothie, but when it comes to OJ, I'd rather just drink half as much of it, or, well, eat an orange. Note to readers: The Tropicana dietitian tiff ensued when I asked how Trop 50 was different than me taking regular OJ and adding water. Hehe.
6. OJ isn't just for drinking. Turns out OJ is a powerhouse to cook with, too, lending both flavor and complexity to dishes. (I think I've been watching too much Top Chef.) After our killer workout, we went to this rocking cooking joint to make a breakfast fit for a king, or for a whole lot of hungry bloggers. You can even download the Trop-inspired recipes, including walnut-banana pancakes and a killer fruit salad with mint and coconut.
7. A lot of companies are making a big stink about going green, but Tropicana seems to be the real deal.
I will say this for Tropicana, they are meticulous about finding the right oranges and being as green as they can. After juicing the oranges, they dry out the peels and give them to farmers for cattle feed. (Moo.) They're also working with recycling centers across the country to make sure that they have access to the technology to recycle the company's cartons (
which
are specifically designed for freshness). And, they've gone to amazing lengths to keep their plants and offices as green as possible with chairs made out of recycled soda bottles, insulation made from worn-out denim—the list goes on and on.
So, am I sold on Tropicana making the best juice possible? Not sure. But they do have super fresh OJ with no preservatives or artificial flavors. And their employees seem to really care, which goes a long way in my book. I'm still probably picking up an orange over juice most days, but sometimes there's nothing like a cool glass of OJ on a weekend morning to make you feel like you're really eating breakfast. —
Jenn

Want to try some Tropicana yourself? Comment below or email us at contact@fitbottomedgirls.com by next Monday with why you love the orange or OJ, and we'll pick FOUR lucky readers to win this gift basket complete with a super cute glass that's the perfect OJ serving size! (U.S. residents only, please!)