♪ FitHits: Madonna's Hard Candy
A little more than a month ago, Madonna released her 11th studio CD. Eleventh. That's insane. What's more insane is that Madge looks like this nowadays, and she'll be celebrating her 50th birthday in August. Love her or hate her, just look at those biceps and shoulders. The woman is a fitness icon.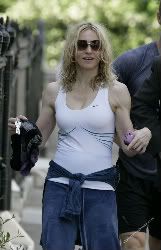 The Fit Bottomed Girls love many of Madonna's songs, especially those from the 80s. Her upbeat, fun and slightly (or sometimes mostly) risqué tunes are perfect for workouts. We also love, love,
love
her last album,
Confessions on a Dance Floor
. Yes, it was a little disco-rific, but it helps us power through even the toughest interval workouts. (Seriously, listen to "Jump." It'll get your booty in gear.) That's why we had to review her latest CD,
Hard Candy
.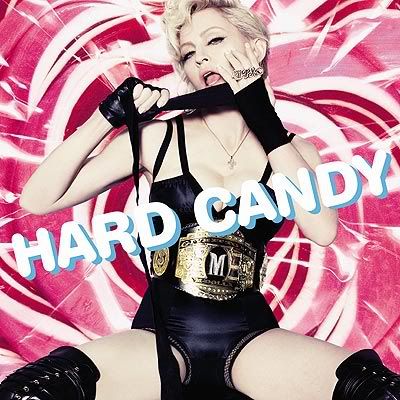 This is a pretty hip-hoppity CD for Madonna. She brought in Pharrell, JT, Timbaland and the Neptunes for creative inspiration (aka vocals, production and lyrics). So, it's catchy, but if you're wanting straight-up pop, this isn't it. At first listen, I wasn't sure how much I liked it. However, after a few runs with it blaring in my ears, I found some new favorite workout tunes.
The Track List: Madonna, Hard Candy
1. Candy Shop—The album's title track is an upbeat song, well suited for a warm-up with a mid-pace tempo. Candy metaphors galore.
2. 4 Minutes—This is the song you know from the radio. It features JT, and it's catchy. Perfect for a fast-paced 4-minute interval.
3. Give It 2—This is rumored to be the next single and is PERFECT for workouts. I especially loved this one during long runs.
4. Heartbeat—This is another great song to exercise to. It's also the song I couldn't get out of my head after my earbuds came out.
5. Miles Away—A good mid-tempo song, with lyrics ideal for those in a long-distance relationship.
6. She's Not Me—The most, err, interesting song of the bunch. Save this song for days when you might be bored working out. The time will fly by while you ponder how happy Guy Ritchie and Madonna really are.
7. Incredible—While not perfect for a hard-core workout per se, this was one of my favorite songs. It does well as an active cool down.
8. Beat Goes On—With the help of Kanye, this mid-tempo song is really fun. It gets your head-bopping and your fit bottom moving.
9. Dance Tonight—The rest of the CD slows down from here. This is a mid-tempo song that has a good beat, but isn't anything you haven't heard before.
10. Spanish Lessons—Possibly my least favorite song on the CD. It has an OK beat to walk or run to, but it's like a class that's trying to teach you how to seduce your man with Spanish. ¿Como dice "lame?"
11. Devil Wouldn't Recognize You—Another one of my favorite songs on the album, this one is perfect for steady pedaling on the bike or chugging along on the elliptical.
12. Voices Written—The last song on the album, this is a good one to end a workout on. It reminds me of the songs off of Bedtime Stories, which I adored.
The verdict: In my mind, Hard Candy isn't as good for workouts as Confessions on a Dance Floor, but it's still worth the investment. —Jenn
Read more FitHits, including the official FBG summer workout playlist.
Photo grabbed from www.photobucket.com.